Unveiling New Horizons: Canadian Hindu Chamber of Commerce B.C. Event Marks Resounding
Success
[Surrey, BC]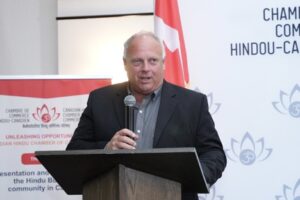 — The Westfield Country Club in Surrey, British Columbia, was abuzz with
enthusiasm on Friday, August 11, 2023, as over 250 distinguished guests and community
members convened for the much-anticipated "Unleashing Opportunities: Canadian Hindu
Chamber of Commerce B.C." event. The evening, marked by insightful speeches, engaging.
discussions, and cultural performances, highlighted the chamber's commitment to fostering.
growth and collaboration within the Canadian business landscape.
The event commenced with a warm welcome address by Sourav Bansal, sizing the tone for the
evening's proceedings. Bansal's introduction paved the way for the evening's Master of
Ceremonies, Nutan Thakur, who seamlessly guided a[endees through the program.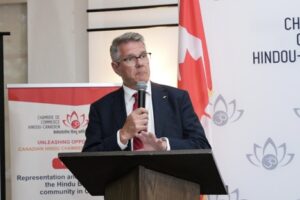 A symbolic Diya lighting ceremony, led by Jeffrey Armstrong and members of the B.C. event.
organizing commitee, underscored the event's unity and shared purpose.
Among the evening's highlights, Naresh Chavda, President of the Canadian Hindu Chamber of
Commerce delivered a compelling speech outlining the chamber's mission and vision. Chavda's
address emphasized the importance of economic collaboration and cultural exchange in driving.
community prosperity. Naresh also recognized Aditya Tawatia, director from British Columbia.
Kushagra Sharma, Vice President, captivated the audience with an initiatives PowerPoint.
presentation that traced the history of the chamber and unveiled upcoming initiatives aimed at
empowering businesses and entrepreneurs.
Surrey City Councilor Mike Bose took the stage to emphasize the Chamber's significance in
supporting new immigrants and contributing to the growth of British Columbia's economy. His
speech resonated with the audience, shedding light on the chamber's pivotal role in fostering.
economic and social integration.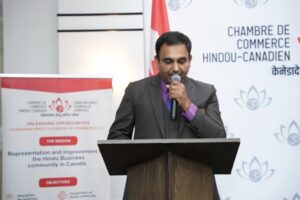 A moment of honor arrived as Member of Parliament, John Aldag, conveyed heartfelt greetings.
from Prime Minister Trudeau. Aldag lauded the Canadian Hindu Chamber of Commerce for its
commendable efforts to drive economic growth while promoting multicultural collaboration.
Jeffrey Armstrong's address, focusing on ethical and dharmic business practices, added a
philosophical dimension to the event, inspiring a[endees to explore innovative and socially.
responsible business models.
Aron Csaplaros of B'nai Brith Canada extended warm congratulations to the chamber and
expressed hopes for future collaboration between the two organizations.
Gnetahn Jehman's captivating musical performance, "East Meets West," bridged cultural divides.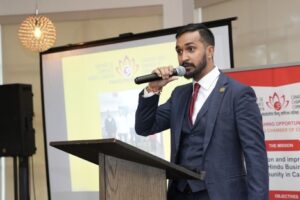 and showcased the harmonious blend of traditions.
The distinguished presence of Surrey Councilor Linda Annis and CGI-Vancouver Counsel
Amitabh Ranjan further underscored the event's significance and cross-community reach.
The event concluded with heartfelt closing remarks by Vinay Sharma, who urged a [endees to
consider becoming life members of the Canadian Hindu Chamber of Commerce. Sharma's
encouragement resonated with the audience, highlighting the potential for continued
collaboration and growth.
Special recognition was extended to the dedicated B.C. event organizing committee, including.
Sourav Bansal, Dhruv Gupta, Manish Bhatia, Manish Garg, Rakesh Garg, Vinay Sharma, Vikas
Tulashyam, and Subhro Ganguly, whose mePculous planning and dedication brought the event
to life.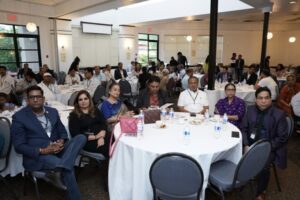 The "Unleashing Opportunities: Canadian Hindu Chamber of Commerce B.C." event marked a
resounding success, reaffirming the chamber's commitment to promoting economic
advancement, cultural integration, and sustainable growth within the Canadian business
community