The Surrey Board of Trade is Surrey's city-building business organization. Our ability to instigate change at all levels of government, to responsibly issue policy change has been instrumental to helping members and the business community. The Surrey
Board of Trade delivered Surrey's first Labor Market Study and Workforce Strategy till 2029. My amazing Staff work with me every day to bring in new initiatives for the benefit and value to our members, to our city, to our nation. I, and my team have positive passion and dedication, each and every day focused on supporting and attracting business. Our national chamber of commerce recognized the Surrey Board of Trade as being in the top 3 in Canada for our government advocacy. The Surrey Board of Trade speaks for the business community at public hearings and to the media. It is a recognized voice of business. Again, we continue to receive extensive media coverage from local and national media.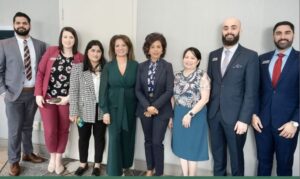 The Surrey Board of Trade continues to be a vibrant, growing organization providing a forum for debate on critical issues. We continued to be an innovative public policy solution provider and a destination for networking for Surrey's business community.
In fact, 15% of our 6,000 member contacts are outside of Surrey. They join the Surrey Board of Trade because they want to know what is happening in Surrey, they want connections, they want government advocacy, and they want business support locally and
internationally.
Our association with a network of Chambers of Commerce and Boards of Trade around the world – in this 500-year-old global industry – gives us a uniquely credible voice. Our goal, always, is to ensure that the Surrey Board of Trade is at the center of business support. The events that we host align with these initiatives and that of the Advocacy Teams. We don't just have a speaker event for the sake of having a speaker – every program that you see come through your emails aligns with the growth of this organization, through a certain theme that is promoted – such as Environment, International Trade, Tourism/Arts/Culture, Workforce, Social Policy, Innovation, Transportation, Industry, Finance and more.
It is all to do with driving the economy of your business and your city. The Surrey Board of Trade will continue to bring in new ideas for the benefit and value to our members. We continue to push the boundaries and innovate the organization through projects, community involvement, and advocacy initiatives that put Surrey at the forefront of positive and productive discussion. As we look into the future of the Surrey Board of Trade, Surrey and our region, we must always ask for and continue to focus on results. We are not the organization that we were 20 years ago, nor could we have stayed that way to be relevant.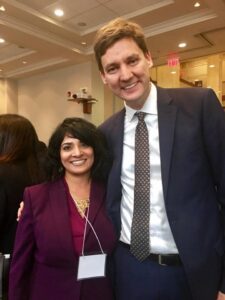 The Surrey Board of Trade, with your help, will ensure that:
• Businesses have the opportunities and supports to succeed (tools, connections, resources for local and international business support; innovation; opportunities for connections; thriving local, regional and international business climate);
• Government decision-makers have information on current and emerging issues and research from a business and economic lens; and,• Surrey is attractive to business (to make Surrey safe, inclusive and affordable and for business to access a diverse workforce with relevant skills).
• Our marketplace is constantly changing – paradigms are shifting – and economic conditions are dynamic with new demands – which create new expectations for proactive and responsive leadership by the Surrey Board of Trade. Check out businessinsurrey.com to
stay up to date on Surrey's economic development, our government advocacy, our business and international support services and our city-building
events.