On Friday, The Kashmir Files' filmmaker Vivek Agnihotri visited the Chief Minister of Madhya Pradesh, Shivraj Singh Chouhan. He was snapped planting saplings at the Smart City park, Bhopal.
Sharing a glimpse of his interaction with Shivraj Singh Chouhan, Agnihotri took to his Twitter handle and made a big announcement to set up a 'genocide museum'. "BIG ANNOUNCEMENT: Our @i_ambuddha Foundation & @kp_global were working to build a Genocide Museum. Today, when I requested @ChouhanShivraj ji about it, he instantly granted land & logistical support. This will be fully funded by us & the people. It will be a symbol of Humanity," he tweeted.
"On behalf of all Kashmiri Hindus and all persecuted people, I thanks Hon CM @ChouhanShivraj for his prompt decision and support. We want this Genocide Museum to showcase Indian values of Humanity and Vishwa kalyan. This museum will also showcase how terrorism destroys humanity," he added.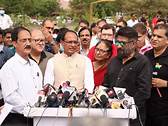 Talking about the idea of the museum, the CM said in a statement to the media, "I thank Vivek ji for bringing the pain of our Kashmiri brothers and sisters in front of the world."
'The Kashmir Files', directed by Vivek Agnihotri, is reaching new heights. The film tells the painful and heart wrenching stories of Kashmiri Pandits who were forced to leave their homes and live like refugees in their own country. Director Vivek Agnihotri made the film with the aim to shed light on the plight of the Kashmiri Pandits during the Kashmir Insurgency.
Supporting and breathing life into his vision were national award-winning actors Anupam Kher, Mithun Chakraborty, Pallavi Joshi and more, who skillfully depicted the horrors, pain and sufferings of their characters. Based on the real events of the Kashmiri Pandit exodus, the film recounts the incidents based on the video interviews of the first generation victims.
"The movie, as Vivek Ji said and I also agree, is not aimed at spreading hatred, but to bring out the truth so that no other area becomes Kashmir," he added referring to the filmmaker's comments on his directorial.
'The Kashmir Files' is based on the Kashmiri Pandit exodus in the 1990s, which debuted on the big screen on March 11. Ever since then, the film has been minting big figures at the Box Office.