Jan.09, 2020: Iran mistakenly shot down the Ukrainian plane that crashed on Wednesday near Tehran with 176 people on board, as per US Media Report. At least 13 B.C. residents were among 63 Canadians killed when a Boeing 737 plane crashed shortly after takeoff in Tehran Wednesday.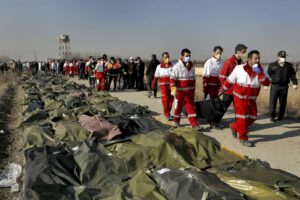 A Ukrainian Boeing 737-800 crashed shortly after take-off in Iran on Wednesday, killing all 176 people on board.
US officials say they believe the Ukrainian International Airlines Boeing 737-800 was hit by a missile,
Ukraine earlier said it was examining whether a missile strike brought down the aircraft – but Iran ruled this out.
The crash came just hours after Iran carried out missile strikes on two airbases housing US forces in Iraq.