2017 started off with a grand win for the North Delta Grizzlies, the team won the prestigious Delta Cup after defeating rivals 3-2. The Times of Canada spoke with the coach, Jerry.
Q1. Congratulations to you and your team, North Delta Grizzlies on winning the Delta Cup! Tell us about the preparation you did for the final game.
Thank you. Our preparation started at the beginning of the season. We've been working on our systems and style of play since October, when the team was picked. However, the real prep work started after we clinched our spot in the Cup final. We scheduled two additional practices before the game as I wanted to make sure we were ready physically. One of our coaches scouted the South Delta team to see what their strengths were and how we could counter their systems and players. This way we could prepare our players and let them know what they were strong at and what parts of their game we may be able to take advantage of.
Q2. The final score for the Delta Cup final game was 3-z, what would have been a good winning score against the team like South Delta, or are you happy with the performance of your players?
The South Delta team was very good and lead by a strong goaltender. We were aware of this going into the game so we knew it would be a tight low scoring game. The performance from our players was outstanding to say the least. South Delta scored the first goal but we reassured the team not to worry as the coaches felt we were out-skating our opponent and we had to stick to our game plan. Trusting each other and playing as a team is critical when you are trailing the game early. The last thing we wanted was players to start playing as individuals but they didn't. Our players trusted their teammates and believed that if they kept working hard the process would pay off.
Q3. Share some insights about your team players —their strengths, weaknesses and what are your hopes from them?
We have a great group of kids on and off the ice. There is a real camaraderie among the players and a lot of new friendships have emerged this season. The Grizzlies play for each other and are very supportive of one another. Whether we are winning or losing, each one of our players is there for their teammates. When a player makes a mistake, you can count on one of their teammate's patting them on the back and letting them know it's okay or when a player that doesn't usually score gets a goal, everyone is excited and is congratulating him/her. From playing perspective, we have a lot of talent in key positions. We have two exceptional goaltenders, solid leadership, a strong defensive core and some really powerful forwards. My hope for our players is that they continue to play as long as they can and one day coach their children in sports (hopefully hockey). I also hope that they take the lessons they've learned about winning, losing and sportsmanship and apply those to other aspects of their life.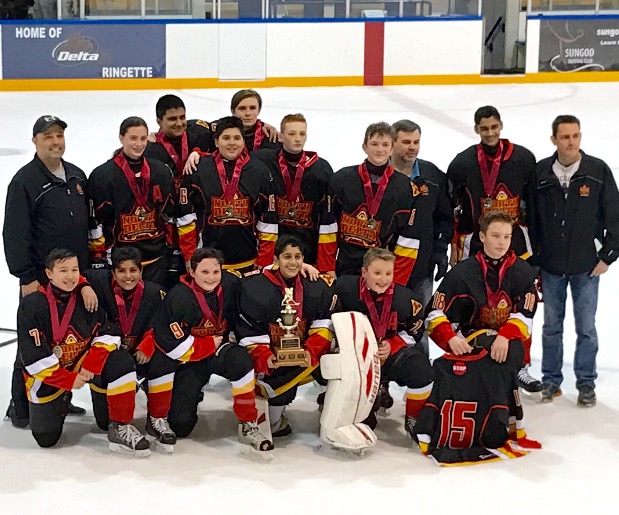 Q4. What is next after Delta Cup?
We are just finishing up our league playoffs and then we will be playing in our North Delta Spring tournament. After spring break the season will be over and they can then enjoy the summer and look forward to the next season.
Q5. There must have been games during the past season where your team lost, how did you and your team handle those situations?
Losses are going to happen no matter how much you prepare. Our team knows that if we play a good game, work hard and don't get the win. that's okay. As long as the effort and determination is there, you don't have to be down or disappointed about a loss. The losses that are not acceptable are the ones where the effort wasn't there and the determination and focus were lacking. Those are losses we're not happy about. Early in the season, the coaches made that very clear. Hard work will always pay off in everything you do, sports, academics or your career. When you come to the rink, be ready to work hard, and you will have success.
Q6. Given the fact that you coach young boys, what are the other sports and activities you encourage your players to participate in to improve their fitness levels?
Any sport or activity is great. Soccer, basketball and track are great for endurance. Baseball and lacrosse are good for your hand eye coordination. All physical activities help with fitness and as young boys and girls it's good to have your fitness foundation started at a young age. We are a team built on hard work and hustle so endurance is a big part of that. I also have players that play multiple sports throughout the hockey season. Some play schools sports others play soccer and football for other associations. I feel the more sports the better. It makes you a well – rounded athlete. Your question mentions I coach boys but I am also very fortunate to coach a young lady who without out a doubt is the fittest player on the team. Not only does she excel at hockey, she is also an outstanding soccer player. She has a great work ethic and I really enjoy coaching her.
Q7. Every win has a story, a story which has sacrifice, determination and a hero. What were the sacrifices made by the team to win the Delta Cup and who were the heroes of this game?
I can't say we had one hero or one player that stood out tremendously. We had a few key moments in the game that helped us with the victory, however Rahul (our goaltender) made some big saves but near the end of the game, he stopped a shot that most people thought was an easy goal. As I saw the play develop, I thought this might be a tying goal for South Delta. With his focus and determination Rahul slid across the ice and made the save of the game. I think Rahul would tell you it was the best save he's ever made. Our team captain Siraj was also involved in a play that had a big impact on the game. It wasn't a goal or a nice pass or blocked shot. It happened when several players from both teams were pushing and shoving around our goaltender. Siraj stood up in front of his goaltender to protect him. He sent a message to the other team without saying a word. He made it clear that no one was going to poke or push his teammate and get away with it. Sometimes, a play like that can have just as big of an impact as goal. It's that kind of leadership that his teammates notice and it makes them play even harder. Overall, every player elevated their level of effort for this game. I can recall a play from every player on the team that helped with the victory. It was a proud moment for the players, parent and coaches.
Q8. What is your advice to parents of the players, how they can support their children more when it comes to sports?
My advice is to make sure they are having fun. That's why you play because it's a game that supposed to be fun. Of course, like with all sports it becomes competitive and for some players and coaches that makes it even more fun. There are many ways to support your child, the easiest is to cheer for them from the stands. Don't coach them from the stands; it's one of the most confusing situations for a young player. Cheer for them and their teammates whether they are winning or losing. Other ways to support them could be getting them private coaching or clinics to help them develop a particular skill that they may be struggling with. If they play a certain position they may require a professional instructor. For example, goaltenders usually need specialized coaching to help them develop, same as a pitcher in baseball.
"My favourite memory on the bench with Coach Jerry is that he always has the confidence in me and Cole to make the right decisions on and off the ice. Coach Jerry has helped me become a better person on and off the ice while still helping me become a better goalie." -RAHUL