Punjab Election Results 2022, Punjab Assembly Election Result 2022 Today Live Updates: The AAP's victory in Punjab with a splendid performance is going to create ripples that could lead to realignments at the national level.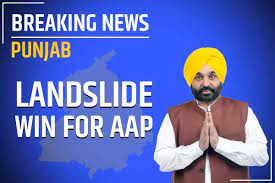 Arvind Kejriwal-led Aam Aadmi Party on Thursday emerged victorious in the Punjab Assembly Elections 2022, with a sweeping victory on 92 out of the 117 assembly seats. The runner-up, Congress was able to secure 18 seats, while Shiromani Akali Dal won only three seats. AAP leader Bhagwant Mann is set to become the new Chief Minister of the state.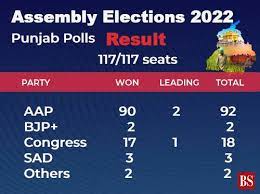 AAP's chief ministerial candidate Bhagwant Mann won from Dhuri Assembly seat by a margin of over 58,000 votes. In his maiden speech following the election victory, Mann thanked the people of Punjab and said his party will work together to bring the state back on the development track.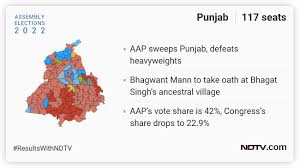 Meanwhile, Congress leader Navjot Singh Sidhu and former CM Amarinder Singh, after losing their seats, congratulated the AAP on its victory. Prakash Singh Badal and Sukhbir Singh Badal also lost from their constituencies. The AAP's performance in Punjab is going to create ripples that could lead to realignments at the national level too. Political observers see this performance as an endorsement of Arvind Kejriwal as a prospective national leader against Prime Minister Narendra Modi.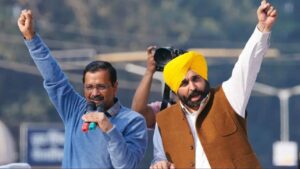 Several party hoppers including Rana Gurmit Singh Sodhi, Fatehjang Singh Bajwa and Anil Joshi faced defeats in their respective constituencies on Thursday. Ahead of the assembly polls, several leaders had switched over to other parties including the Bharatiya Janata Party (BJP), the Aam Aadmi Party (AAP), the Congress and the Shiromani Akali Dal (SAD).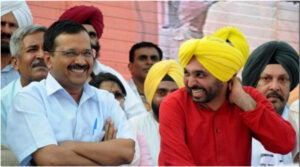 Former sports minister Sodhi was defeated from Ferozepur City seat, according to election results. AAP candidate Ranbir Singh won from Ferozepur seat by defeating his nearest rival Congress candidate Parminder Singh Pinki.
Sodhi had been a four-time MLA from Guruharsahai in Ferozepur Former Congress leader Bajwa, who had joined the BJP, fought from Batala seat. He came fourth.