Mayur Arora, the owner/founder of the real estate brokerage OneFlatFee, has been the Top 1% Realtor® (Sales) in Greater Vancouver from 2011 to present. He has more than a decade's experience of selling homes. Mayur set the industry abuzz when he started his low commission real estate brokerage, OneFlatFee. His client centric approach and strong negotiating skills made him extremely popular and successful Realtor®.
Mayur has been a great supporter of The Times of Canada group. He was one of the top sponsors of our very first Diwali Gala in 2013. He has been supportive of all of our events and initiatives till date. We recently got a chance to interview Mayur and talk about his experience and success mantra. It will definitely be a great read!
Tell us about yourself and your background.
I grew up in Delhi with one sister, Tisca Chopra who is a leading Bollywood actress turned-producer/director and parents who were both top educators (vice chairman) in the private high school system. I obtained a Bachelor in Journalism from Delhi University.
When did you come to Canada & what kind of jobs did you do prior to becoming a Realtor®?
I initially immigrated to Seattle in 1996 with just $400 in my pocket. A friend had invited me to a luncheon at an upscale hotel where they were offering Visa lotteries to young people. By total luck, I was given a Visa to study in the US and I jumped at the opportunity. I lived with my uncle while attending Seattle City University, where I obtained my Master in Business Administration (MBA) while working multiple server jobs to pay for my tuition. I eventually moved to Surrey where I started my own used car sales lot and imported cars from the US. After a few years of being in the car business, I bought and managed an upscale Indian restaurant in downtown Vancouver, 'Maurya', which drew politicians, celebrities and Vancouver Canuck players. After a 3 year exhausting – yet successful run, I sold my restaurant for a profit and became a full-time Realtor®.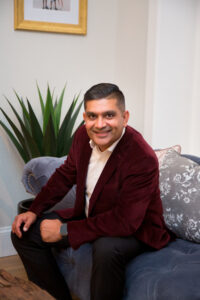 Why and when did you decide to become a Realtor® ?
Real Estate was something that always interested me. When I sold my first home many years ago, I was shocked at the high amount of commission I had to pay to my Realtor® for a few days of work. This prompted me to open my own real estate brokerage OneFlatFee and offer a different service model which entails a flat fee service, for sale by owner concept and lower commissions translating into thousands of dollars of savings for my clients. I knew this concept would resonate well with people and that it would be a huge success.
There are so many Realtors in the Lower Mainland, why should someone choose your service?
Yes, in fact I am competing in a field of over 14,000 Realtors in the Greater Vancouver Real Estate Board (GVREB) and a total of 22,000 Realtors in British Columbia! The advantage I have, is my decade plus experience selling over 1,800 homes (over 100 homes per year), my strong negotiating power in getting my clients top dollar for their home and the fact that my brokerage OneFlatFee offers a unique concept – I help clients save thousands in commissions going with me, while getting full service such as open houses, virtual tours, professional pictures, brochures, and negotiation on their behalf. As a business owner, I pour my heart and soul into Real Estate spending early mornings, late nights, sacrificing time with family and friends, and foregoing many parties and events in order to prioritize active opportunities and the needs of my clients. Most of my clients come as a result of referrals from past clients – many of whom have been repeat clients and become friends.
What are the most common concerns of a client?
Real Estate is the largest investment most people make. Clients naturally question if they're making the right decision to purchase or sell, and whether the timing is right. When dealing with an experienced and knowledgeable Realtor®, you'll receive the right guidance. Another common concern of buyers is regarding financing, and these days about rising interest rates. I always recommend buyers to receive pre-approval for financing from their bank prior to house-hunting.
What are your achievements as a Realtor® till now?
Since I began my Real Estate career, I have consistently ranked in the Top 1% of Sales year over year for the past 12 years by the GVREB – which earned myself a spot in the Medallion Club (Top 10% of all Realtors) and President's Club (Top 1%). These achievements could not be possible without the trust and business from my clients – many of whom are repeat clients. I've grown my team with three assistants, as I've expanded my business into the Presale market which has been very strong and successful for me – largely due to the trust I've earned from past clients, referrals and from those seeking early access to presale homes.
Where do you see yourself in the next 5 years and 10 years?
I will be continuing to grow my presale business alongside my wife Moana who has been working with me for the last year, and has been instrumental in my success. I am also going to continue serving my current and new (resale) clients – I've recently revamped my marketing and branding efforts, as well as acquiring a new office in Guildford.
With the recent interest rate hike, what is your opinion on the condition of the BC Real Estate market and what will be its future?
With the interest rate hike in September, I anticipate the housing prices to come down a little more which will create the perfect buying opportunity. Next year somewhere between Summer and Fall, home prices should start to rise again with renewed market stability.