BRIDAL FASHION WEEK 2022
The wedding show "BRIDAL FASHION WEEK" is back for it's
fifth edition. BFW has been organizing wedding shows in
major Canadian cities i.e. Vancouver, Surrey, Edmonton,
Toronto and Calgary. BFW expanded to Los Angeles, USA
since 2019.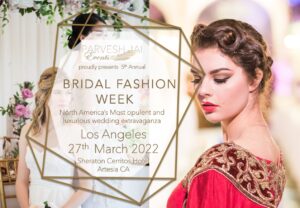 This year BFW will host the series of wedding shows in
Surrey, Vancouver and Los Angeles.
March 13th : Royal King Palace, Surrey BC Canada
March 19th : Roundhouse Community Centre, Vancouver
BC Canada
March 27th : Sheraton Cerritos Hotel, Los Angeles.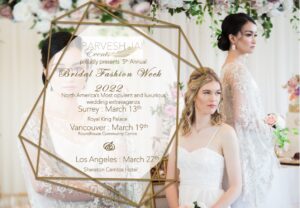 BFW is known for it's multicultural image, and present
wedding vendors from different ethnicities every year. 2022
will see more than 100 vendors in three cities. From runway
shows to contests to live entertainment, this show will
exhibit some of the finest vendors of wedding industry.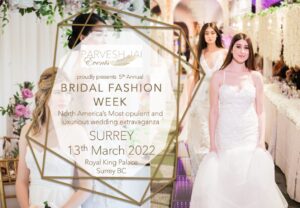 For tickets log on to : www.bridalfashionweek.net
Instagram: @bridal.fashion.week Facebook: @bridalfashionweekcanada