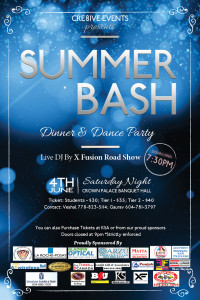 Cre8ive Events proudly presents "SUMMER BASH -2016" Dinner & Dance party.
All the Universities Students and general public are invited. Entry Tickets and venue details are as follows:
This event includes FREE delicious appetizer and dinner, and amazing live DJ to make you loose your feet on the dance floor.
TICKETS :
Students – $30 (Student ID is Must)
Tier 1 – $35
Tier 2 – $40
ALL AGES event.
**Tickets are available at all the KSA member services offices** and from our proud sponsors.
you can also contact the hosts for the ticket details.
VENUE : Crown Palace Banquet Hall, Nordel Way, 12025,Surrey.
***DOORS WILL BE OPEN AT 7:30 PM AND CLOSE AT 9PM
Dress code: dress to impress with your nicest indian attire!
****Liquor is also served only to 19+ ages. so IF YOU ARE DRINKING, dont forget to bring valid Government ID and please DONT DRINK AND DRIVE. we can arrange a ride for you if you need one.****
*There will be ZERO TOLERANCE for fights, and you will be immediately removed from the venue with no refund for your ticket*
Mark down the date and let's make this night an unforgettable one!!! (p.s. bring your dancing shoes..)
Contact –
Veshal Babbar – 778-823-5114
Gaurav Bhulla – 604-781-3797
Maninder Singh – 604-446-5550
Romy Shokar – 604-715-6364