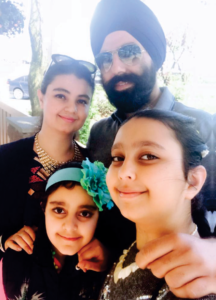 It all started on the very fine evening of September 2010, sipping a cup of coffee with my work colleagues and discussing opportunities for Canada, at the end of the conversation we all agreed to apply PR, under skilled worker category. Within a week we all had applied with no knowledge of what we are heading towards as it is a dream of many young professionals, (Canada is also described as land of dreams). My friends got their visa within 6 months and it took me more than 3 years. All flew out with their families and are well settled in Toronto area.  As time passed by I reached my goal to be an Executive Chef for one for the finest brand in India (The Taj).
In September 2013, I received an email from the Canadian immigration stating my application has been approved. With excitement of getting the visa after a long wait, I felt an anxiety of leaving the position for which I had worked so hard. After extensive discussion with Kanwardeep, and debati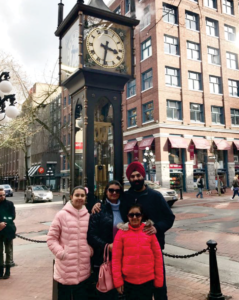 ng our next move, especially about our daughters who  were going to  one of the best school in India (Delhi Public School New Delhi) and Kanwardeep was successfully running her own boutique of Stitched and unstitched ladies suits and jewellery, we decided to at least visit and check out the land of opportunities. Kanwardeep was not very keen of moving to a freezing environment, but we landed to one of the most beautiful places on earth Vancouver (British Columbia) on May 9th, 2014.
I am grateful to my aunt who let me stay at her place before I got my rented accommodation and job, Kanwardeep and kids joined me after 3 months. Having worked for the best hotels for over 18 Years (Hyatt, Marriott and Intercontinental, Claridges to name a few and Fairmont hotels in Canada), initial days were a struggle. We started doing odd jobs, but kept on working to re-establish ourselves in our own fields here in Canada.  Using our experience in clothing and hospitality we started trading in Indian ethnic wear as well as worked to setup our catering business too. Today after three years, I am proud to share that we have successfully settled in our new country. We opened our own kitchen and catering company on June 1st, 2015 (GJS Kitchen and catering) and Kanwardeep is happy that her boutique business is also growing. Our daughters have adopted to the Canadian school system and we all are happy to be here. Canada is indeed the land of opportunity.
Although it was very difficult for us in the beginning, but we are thankful to our friends who supported us on each and every step and helped us in staying focused on our goals and motivating us. Today, we happily settled here and proud to be part of this great nation.