Feb. 20, 2020, Surrey: Mercedes-Benz Surrey hosted Customer Appreciation Night and unveiled A New Model 2020 SUV Mercedes Benz GLB-Class. General Manager Mercedes-Benz Surrey, Mahmood Mawji invited many well-known personalities of the town as well as their clients. Undoubtedly, it was well-organised and spectacular event.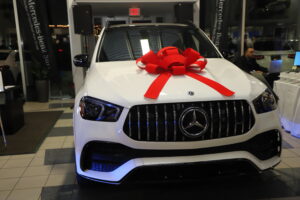 Mercedes-Benz Surrey is the official dealer of Mercedes-Benz, AMG, smart and Sprinter for Surrey and White Rock since 1999.
As a member of the OpenRoad Auto Group, one of Canada's largest and fastest-growing automotive groups, they promote a car buying experience based on openness, participation and expertise. Being one of Canada's Best Managed companies and a recipient of the Canadian Automobile Dealers Association Laureate Innovations Award. That says a lot about the way they operate and treat their guests.
Unveiling of a New 2020 SUV Mercedes Benz GLB-Class
Slotting into the narrow space between the GLA-class and the GLC-class is the all-new 2020 Mercedes-Benz GLB-class compact crossover. This mini ute, however, pulls its boxier styling from the vaunted GLE and G-class SUVs. Although it's an inch shorter than the GLC-class, the GLB has an available third row, something that neither the GLC nor the GLA offer. The GLB-class is a spacious crossover equipped with impressive standard technology, but it can be optioned with even more luxury and tech features. The GLB-class starts at a low price for a Mercedes, but adding the available options will quickly make this compact SUV cost as much as most other luxury vehicles.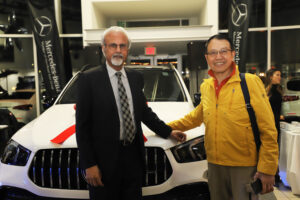 Mr. Allan Wang Senator who is a Junior Chamber International Senate is the first customer who bought 2020 SUV Mercedes Benz GLB-Class. Many famous artists and public figures such as Gaurav Shah- Host/Actor, Teji Sandhu- Singer, Vinay Sharma MD The Times of Canada were also present there.
For any query, Contact: Mercedes-Benz Surrey
604-901-4711
15508-104th Ave Surrey, British Columbia V3R 1N8