"A Mother is she who can take the place of all others, but whose place no one else can take"
Mother's day is a special day for all the mothers and children. It acknowledges and celebrates the bond of love and affection that is everlasting. Mother is a support system of the family who has the magic touch to heal all wounds and make the things beautiful. Hence, the Mother is responsible for well-being of society. The future of society in a large way is the result of a Mother's teaching.
Most noteworthy, a Mother's heart is made of gold. A few words of acknowledgment would fill her heart with happiness. There are probably several ways of doing so.
However, the team of The Times of Canada began Mother's Day contest on 1st May, 2021. Because of  the health and safety guidelines during this Covid 19 Pandemic, This contest was designed by placing QR code which was just one scan away. Mothers were specially invited to scan the barcode online on social media and the website and enter into the contest. There were 50 entries on average every day. We got over 500 entries in total out of which 50 became the finalists. We elected 5 mothers as finalists daily and were given a token of appreciation and also these mothers got opportunity to enter into final draw.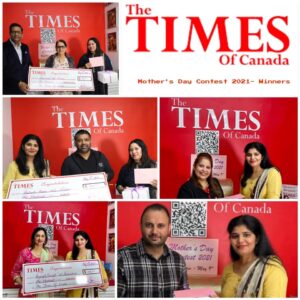 Everyone was so excited on the Mother's Day. All participants were live on face book to watch final draw and At last 5 mothers won $100 as Prize money with a delicious cake. Mothers were so happy and shared their feelings with the team.
Not forgetting the hard working team (Ramandeep Kaur, Navi & Sonia Sharma) of The Times of Canada, The management gifted $100 to all the mothers in team.
Our heartfelt thanks to all the sponsors without whom this show had not been the successful. I would like to make a mention of Shubha Chaudhury – KEYWAYS MORTGAGE INC., Global Hire – Amrit Dhot, Realtor – Tony Bal, Jassal Signs, Robin Kanozia – Photography, Jas Arora – Notary Public, SJI CELL, Bozzini Restaurant, Rozzini Restaurant, Red Rose Restaurant, Open road Mercedes Benz Surrey, Shaan Collections, BIBA boutique and Sonia Sharma Mortgages.
I would also like to thank specially the "Sanjha TV" who collaborated with "The Times of Canada" to make the event successful. We are looking forward to organize many more events with the Collaboration of Sanjha TV.
Vinay Sharma