Progressive Intercultural Community Services Society known widely as PICS is a non -profit organization serving new comers, seniors, kids, and women since 1987.
For the last 28 years the entire community of Surrey, Delta,  White Rock and Vancouver has been accessing a host of services that are funded largely by the federal and provincial governments, and some by organizations such as the United Way of Lower Mainland and corporate donors.
Whether it is English Language for the workplace, self-employment programs for the youth or mature adults, residential services for adults or a safe secure home for women suffering domestic abuse, PICS is able to help each and every member of our society.
The small fledgling organization built from a mere eighty dollars, 28 years ago today stands tall and proud as one of the key service providers in Metro Vancouver.
"PICS is a prime example of what can be achieved if likeminded people come together. We might have had just eighty dollars in our pockets when we started but we sure did have a million dollar resolve," said Mr. Charan Gill, CEO PICS recalling those years when he had to struggle for grants.
"There was a clear need for services, especially for farmworkers and new comers from South Asia for whom culturally appropriate services were not available at all. Slowly and steadily we grew and added various new programs," said Mr. Gill.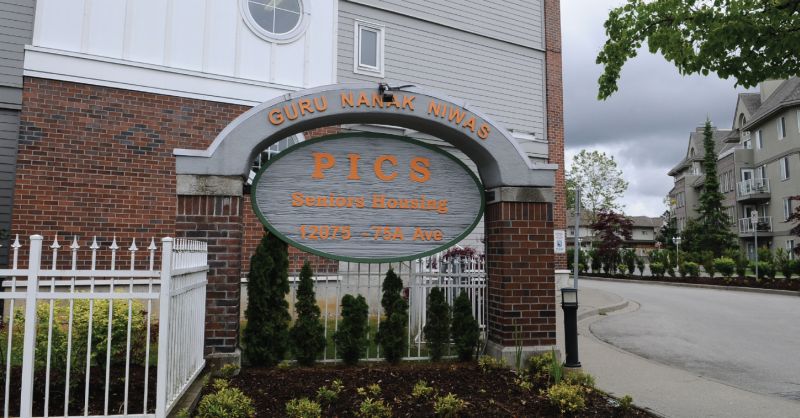 As South Asian community grew by leaps and bounds in Metro Vancouver, it was soon felt that there were hardly any culturally sensitive services available for aging seniors. And thus under the leadership of Mr. Charan Gill, PICS built the first ever Independent Living Facility geared towards the South Asian community.
Guru Nanak Niwas is a fantastic 77 bed facility located on Scott Road and 75 A avenue and is designed specifically for independent senior adults who want to enjoy a lifestyle filled with recreational, educational and social activities with other seniors. PICS has also built a 49-unit Independent Housing Complex which provides a special combination of residential housing, personalized supportive services and health care. In addition to this PICS Seniors Day Care Program offers daily structured programs in a community setting with activities and health-related and rehabilitation services to elderly who are physically or emotionally disabled and need a protective environment.
True to its commitment of providing a broad spectrum of services to the community, a few years ago, PICS took the initiative to build a second stage transition home for women.  Harmony House is a supportive housing program for immigrant women and children fleeing domestic violence. Harmony House's mission is to provide safe housing, education, support, and practical assistance for women and children fleeing domestic violence and it's vision is to empower women to become independent and self-sufficient leaders of the community.
Now PICS is actively fundraising to build a Multicultural Extended Care Home for Seniors. Building a long term culturally sensitive seniors home has become an acute need of the community. In today's fast paced world, the needs of our seniors are often times neglected.  PICS has therefore taken on the responsibility of building a long term care home for South Asian seniors in Surrey.
This care home will ensure that seniors live in an environment they are familiar with, where the staff can speak the language they understand, and where they are surrounded by familiar sights and sounds as they deal with multiple health issues.
PICS has already bought land for the home in Cloverdale and has engaged professionals to do the ground work, but this ambitious $30 Million project cannot be completed unless we get support from the community.
We therefore appeal to the entire community to come together and give our seniors a home they truly deserve.
To donate or to know more about the PICS Extended Care home or about various PICS programs visit www.pics.bc.ca or call 604-596-7722.