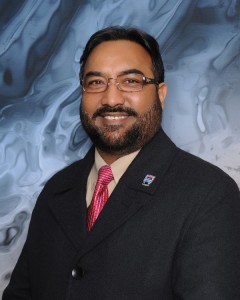 Gurtej graduated with Bachelor's degree (Honours in Economics) and later received his two Masters Degrees in Economics and Sociology, received Senior Fellowship and taught in the University's School of Sociology and Social Anthropology for three years. Gurtej joined the Ministry of Families and Children Development (Social Welfare) of the Punjab Government in 1989 and worked there as Joint Director until he immigrated to Canada in 1999.Gurtej was awarded Bhagat Puran Singh State Award in 1998 for his distinguished service to the people having varying disabilities, received Community Supporter (Top Recipient) Award by the Leader Newspaper Group (BC) in 2007. Gurtej worked as Team Leader Community Living in Surrey, Burnaby, Vancouver, New Westminster and the Tri-Cities (BC) before making the move to Real Estate, joining ReMax Performance Realty Ltd. Apart from his successful Real Estate business, Gurtej sits on various committees and boards of the Lower Mainland.
By Gurtej Gill, Former Social Worker
Every business aims to be profitable. Every business is looking to learn about new approaches that help build success. People are your biggest asset. Businesses are always looking for good, Revenue dependable workers who can help their business prosper. People with developmental disabilities cheap MLB jerseys are committed workers with the skills and work ethic to bring real, long-term value to their workplace. Hiring the right person benefits the company/business's bottom line.
Diversity at the workplace can mean Viol?es an increase in customer base, quality of service and potential for growth. For example, in B.C.,1 in 7 people has a disability, every year people with developmental disabilities and their families make significant contributions to By the economy through their purchases of goods and services and (research shows) 80 per cent of consumers prefer to support businesses with diverse workforce.Work is fundamental to our lives. It means so much more than a paycheck — it offers purpose and the opportunity to lead an independent, self-directed life for all people, including people with disabilities.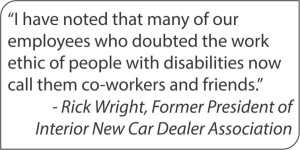 People with disabilities have the skills to pursue meaningful careers and play an important role the in Canada's educational, social, cultural and economic success. In fact, experience with disability can offer a competitive edge when it comes to work. Only a person with a disability can define her/his own limitations. High expectations are essential to success.
Look at the success and confidence level of the people with varying abilities in their own words …
"I am 63 years old. I was born with spastic paralysis. I have been a state licensed water plant operator. I can repair and program computers, classic auto and truck restoration and all types of engines. I can do anything I've listed as long as I can work at my own pace," Dana Sewell.
"I can answer phones, file, run P.O.S. machines, conduct sales, inventory, basic computer skills, customer service, set reservations, am very personable and I enjoy helping other," TannielleLaMar.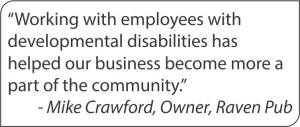 New employment approaches can help build any company's future, growth and goodwill. In BC, Community Living British Columbia (Crown Agency under the Act) and similar other provincial governments' departments fund employment agencies in communities across the country to support adults with developmental disabilities to find and keep employment. These agencies can work with you to connect you with potential employees in a way world that makes sense for your business.
These agencies/departments screen potential job applicants, match skills with business needs, provide on the job support and training and ensure there's follow-up and support as needed.Organizations/agencies exist that can help people with disabilities seek Сезонные employment, identify the tools they need to be productive on the job, and understand their right to be evaluated based on their ability, not disability.