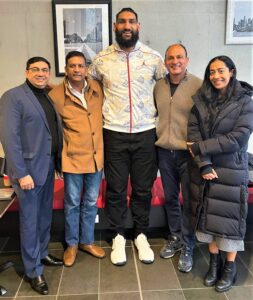 Satnam Singh, a professional wrestler and former basketball player, first of Punjabi Indian descent, currently signed to the American promotion All Elite Wrestling is honoured by KidsPlay Foundation sponsor, David Sidoo, on behalf of the organization.
A Canadian businessman, philanthropist, and former professional Canadian Football player, Sidoo is a social trailblazer in the community. Kiran Toor from "KidsPlay Foundation", Sanjeev Sehgal from "Visa for Me" and Vinay Sharma from "The Times of Canada" were also invited.
Satnam Singh (born December 10, 1995) became the first Indian player to be drafted into the National Basketball Association (NBA) when the Dallas Mavericks selected him with the 52nd overall pick of the 2015 NBA draft. At 7 Ft 2 Inch (2.18 m) and 360 pounds (160 kg), Singh played the center position.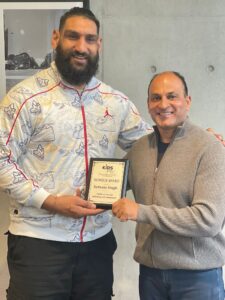 He played high school basketball at IMG Academy in Bradenton, Florida.
David Sidoo (born July 10, 1959) is also a former professional Canadian Football player. Sidoo played for the University of British Columbia Thunderbirds, and is an inductee in the UBC Sports Hall of Fame and the BC Football Hall of Fame.