After the City of Surrey released what it called a "transitional plan" detailing the move from the RCMP to a municipal police force last year, Surrey Mayor Doug McCallum announced the final approval of a new city police force.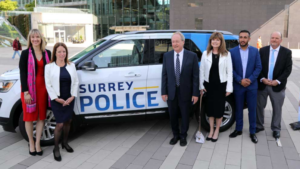 The B.C. government's announcement that the City of Surrey will form a municipal police board won praise from the city's mayor but has also spurred a political backlash from opponents of Surrey's move to transition away from policing by the RCMP.
Surrey Mayor Doug McCallum described the announcement Thursday as "Day 1 of the Surrey police force."
Currently, the Surrey RCMP has "an authorized strength" of 843 members, although there are currently 51 vacancies. The City of Surrey also has 302 employees who directly support the Surrey RCMP.
The costs of these employees, as well as all police facilities, are paid for by the city.
McCallum said recruitment of officers has already begun and the city has already chosen Bob Rolls, retired deputy police chief for the City of Vancouver, as its city-appointed board member — one of seven founding board members, which also includes the city's mayor and five appointees of the Minister of Public Safety and Solicitor General.
Speaking to media at Surrey city hall, McCallum thanked the current minister Mike Farnworth as well as Premier John Horgan, whose government is already facing political blowback for the decision to approve the police force.