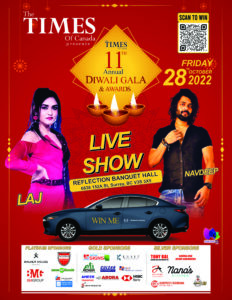 The famous stars of SaReGaMa Laj and Navdeep are coming here to Vancouver for the most awaited corporate Event of the year " The Times of Canada Diwali Gala Awards Night and Car Giveaway 2022″.Laj has achieved alot in a very young age.She has been in the Top 8 for the SaReGaMa ,2 times Gold Medalist in National Youth festival in Gazal (light vocal) ,Radio city Singing competition 2019 – Winner,Manali Festival 2020- Winner and much more.
Navi Ibadat (Navdeep) Laj's Guru has been one of the tremendous Singer. He has been a Gold Medalist in Folk Orchestra And Also Awarded As Best Performer ,Run his Own Academy Named:-IMG(In My Gravity) In Which we Teach National And International Students ,Has his Own Band and much more.
The Times of Canada Team and whole lower mainland is looking forward to see their tremendous performance and singing.