Head of training mission says 60 troops were moved west of the Dnieper River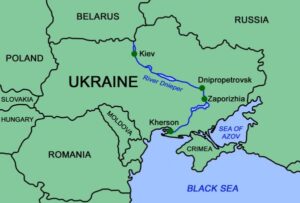 The Canadian military was forced to relocate about 30 per cent of its 200 trainers in Ukraine — including sniper instructors — because of the threat of a Russian invasion, says the Canadian commander on the ground in the eastern European country.
Lt.-Col. Luc-Frederic Gilbert told CBC News on Tuesday that the military pulled 60 troops out of five locations — Odesa, Ctare, Mykolaiv, Decna and Borjspeil — and moved them to new bases west of the Dnieper River, a major geographical feature which divides Ukraine.
During her visit to Kyiv earlier this week, Defence Minister Anita Anand said the move was being made for the safety and security of the Canadian troops but did not offer any details.
Gilbert said troops affected by the order to move will now restart their instruction elsewhere in the country.