Consulate General of India, Vancouver
The Fraserview Hall in Vancouver was abuzz on Saturday, 15th February 2020 when the Consulate General of India in Vancouver in partnership with 8 different organizations celebrated the Vishwa Hindi Diwas (World Hindi Day). A colorful kaleidoscope of Hindi songs, Hindi poetry, Hindustani classical music and Hindi book launch was presented by children and adults as part of the World Hindi Day celebration.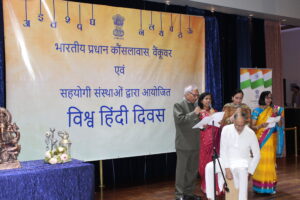 Vishwa Hindi Diwas is traditionally celebrated every year with an objective to promote Hindi as an International language around the world. Local organizations involved in propagation, teaching and preservation of Hindi language among Indian Diaspora around the world are encouraged to participate in the Vishwa Hindi Diwas.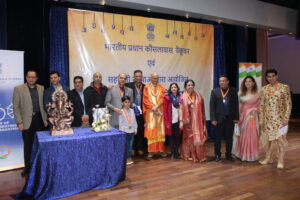 Members and students of Global Hindu Foundation, Literary Society of Canada, Ganesh School of Hindu Temple Burnaby, Indian Cultural Association of Vancouver, VISHWA, Canadian Hindu Foundation and Writers International Network participated in the event on 15th February. Renowned local classical singer Ms. Neeraja Aptikar also participated with a performance of two melodious classical renditions.
Consul Manjish Grover kicked off the event on behalf of Consul General Abhilasha Joshi by thanking the partner associations for their participation. To commemorate the 70th anniversary year of adoption of India's Constitution, he also read out in Hindi, the fundamental rights and duties of Indian citizens. The cultural part of the program was opened by the members of the Global Hindu Foundation who presented a song specially written for Vishwa Hindi Diwas by Acharya Shrinath Prasad Dwivedi. He also came back on stage to deliver a talk on History of Hindi Literature. But the evening belonged to remarkable individual renditions of poetry and prose by Sanvi Gandhi, Mehar Bhamra, Pratyaksha Awasthi and Veda Prabhuof the Hindi Literary Society of Canada. The bright students of the Ganesh School presented an aptly named song हम हैं हिंदुस्तानी हिंदी भाषा हमको प्यारी है (Hum hain Hindustani, Hindi Bhasha haemin pyaarihai). This was followed by individual poetry recitals by Dr. Ajay Kumar Garg, Shailendra Pathak, Ms. Suchitra Joshiand Ms. Sheetal Kulkkarni. Dr. Ashok Bhargava's collection of poems 'Lahron Se Sangharsh' was also launched at the occasion. The cultural program came to an end with a spectacular performance of a specially written song by Swami Dr. Satya Parakash ji "Aao Hindi padhein" along with members of VISHWA and Canadian Hindu Foundation. At the conclusion of the program, the participating associations were honored with trophies and the participants were honored with medals and certificates. Around 180 gests attended the colorful function.