As Ranbir Kapoor and Alia Bhatt posed for cameras outside his home hours after their wedding, he lifted her in his arms and proceeded back inside, eliciting laughter from the crowd.
On Thursday evening, Alia Bhatt and Ranbir Kapoor made their first public appearance as a married couple. The couple emerged from his Bandra home Vastu hours after their wedding to pose for the photographers waiting outside. The photographers were ecstatic as Ranbir carried Alia in his arms. Alia, as well as the security guards stationed there, were split at the time.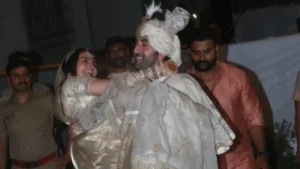 Alia Bhatt and Ranbir Kapoor married in a small ceremony with about 30-35 people, all of whom were close friends and family. Photographers from various media outlets had been stationed outside Vastu throughout the day, hoping to catch a glimpse of the couple. In the evening, Alia posted the first official photos of the pair on Instagram. Ranbir and Alia emerged minutes later to welcome the waiting photographers.
Ranbir carried Alia in his arms as the couple returned inside, forcing Alia to laugh hysterically. Several security and police officers stationed at the residence couldn't stop laughing as well. The footage of the incident was extensively circulated on social media by fan groups and paparazzi, with supporters applauding the lovely, romantic gesture.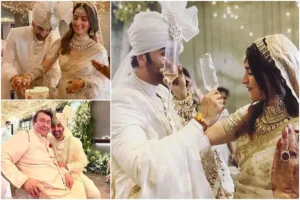 "This is very cute," a fan wrote in response to one of the paparazzi videos. "They both look incredibly adorable together," another fan said. Several followers expressed their affection for each other by commenting with 'awws' and heart emojis.
Ranbir and Alia began dating in 2017 while working on Ayan Mukerji's film Brahmastra, which will be released in September of this year. During a May 2018 interview with GQ, Ranbir revealed that he was dating Alia. He later said that they had planned to marry in 2020, but that the ceremony had been postponed owing to the coronavirus outbreak.