Indra Bhan immigrated to Canada in 2002 with her family. She was born in Fiji and is the youngest of five children. She completed her education in Fiji and started working at the age of 19. She worked in the hospitality industry, working as an Executive Assistant at the Sheraton Fiji, then in the airline industry in various positions ultimately as Customer Service Manager for Fiji Airways. She has been married for 35 years and has two sons and one grandson.
Here's Indra talking about her life journey in Canada and how she got associated with the Surrey Board of Trade.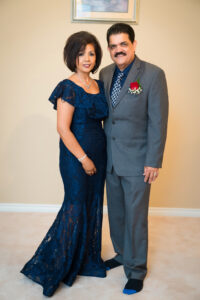 When we arrived in Canada we lived with my parents in Surrey. My kids started going to school and both my husband and I started seeking jobs. After a couple of job interviews, I realised it will not be easy to find employment. Employers were looking for Canadian education and work experience. I realised that we had to think differently and that we will have to start from the bottom. In January 2003, I started volunteering at the Surrey Board of Trade (SBOT) to gain Canadian experience and, at the same time, started going to school. It was a very stressful period, and I almost wanted to return to Fiji. Instead, I returned to school to obtain Canadian education and started volunteering to gain Canadian experience. It was challenging; I was in school, a volunteer, worked part-time at Future Shop, and had to take care of my two young boys.
A month later, I was offered a full-time position at the Surrey Board of Trade as an Administrative Assistant. A few months later, I was promoted to the Business Resource Centre Coordinator position and in February 2004, I again was promoted to be the Membership Services Manager of the Surrey Board of Trade. I progressed very quickly. I handled this position for seven years. I worked hard. I attended numerous community events, met many people, made countless connections and friends.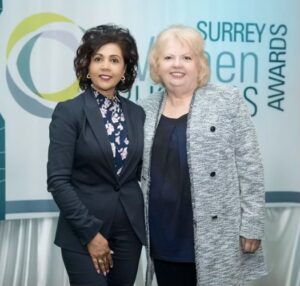 In March 2011, I was appointed Chief Operating Officer of the Surrey Board of Trade. This came with more responsibilities. I continued to work hard and educate myself.
I learned a lot from others. This year I celebrated 20 years with the Surrey Board of rade and 12 years as the Chief Operating Officer. I believe my persistent personality helped me achieve what I wanted and get to where I am today. In the coming years, I hope to advance within this role and continue to learn and grow in this industry. In an organization as progressive and dynamic as the Surrey Board of Trade, there is always the opportunity to learn and grow. I believe that you always need to keep learning. You need to listen; you don't know it all.
Be open to what people have to say. I am very lucky that I chose Surrey as my home. The last 20 years has been a long and beautiful journey and for the entire 20 years, I have lived and worked in Surrey. We have a beautiful community; we share common perspectives and engage with each other to help each other. A lot of my success today is because of our community.