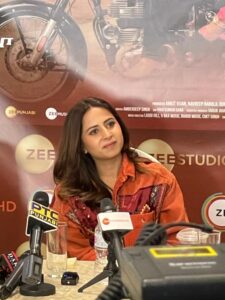 Zee Studios presents in association with Shri Narotam Ji Films Production , Big Bash Producers LLP, Bollywood Heights The Sohreyan Da Pind Aa Gaya. The Press Meet was held today 29June,2022 at Maharaja Sweets & Restaurant, Surrey BC. The Press meet was very well organized by Amit Khanna, Zee TV. Sargun Mehta answered all the question from the media and made it clear that the movie is only for entertainment it doesn't contain any message.It is romantic comedy drama. All age groups can see the movie its a family movie. The whole cast is really positive about the success of the movie. Sargun Mehta really urges the audience of Canada and all over the world to go and see the movie.
She told us that she loves working with Gurnam Bhullar and all songs of the movie are written by Gurnam himself. She claims this is the best thing about the whole music of the film.
She told us that her inspiration to be in punjabi cinema is Her Grandmother.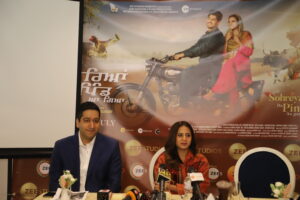 The movie is starring Gurnam Bhullar and Sargun Mehta. It is slated to be released in theatres worldwide on 8 July, 2022. Movie is directed by Ksshitij Chaudhary (Mr. & Mrs. 420 fame), while story is written by Amberdeep Singh.
Amberdeep Singh has written the story of the film and has called it one of the most unique concept we've ever seen. Not just in Pollywood, but the story has also never been seen in Bollywood and Hollywood, claimed Amberdeep Singh.Set in the 90s, 'Sohreyan Da Pind Aa Gaya' is the tale of two love birds – Sargun and Gurnam.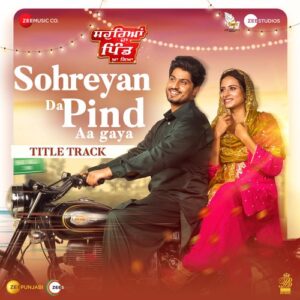 Mad in love, the two really want to tie the knot, but in order to do so, they need the permission of their parents. So they plan to send a matchmaker to Sargun's house who would showcase Gurnam as the best groom for her. Thus, as soon as the matchmaker comes, Sargun without blinking says yes to the wedding, only to later realize that Gurnam's guy never came to her house and she agreed to get married to another man (Jass Bajwa). Also, Jass is from Gurnam's village only, therefore, if Sargun gets married to him, she will be living in the same village as her ex-lover.
Another thing that grabbed our eyeballs was the addition of comedy and hilarious dialogues. The trailer introduces Sargun Mehta and Gurnam Bhullar as lovers who intend to get married to each other.
According to Sargun the movie will a great success. Sargun is currently shooting to to three movies some with upcoming new stars. She is going to soon make her bollywood debut with Akshay Kumar.