The Times of Canada got the privilege to get hold of "Summit Mann" a Surrey based young and talented wrestler.
We asked 21 rapid-fire questions and here is the gist of what Summit answered:
Tell us about yourself: I was born and raised in Surrey, studying in grade 12 at Queen Elizabeth Secondary School.
Did your family support the passion for wrestling? I belong to a wrestling family background. My family has been wrestling for the past 80 years. From my Great-Grandfather to my father, my uncle and my younger brother. Everyone has always encouraged me and supported me.
Who is your favorite wrestler of all time: Jordan Burroughs, Team USA, and Yogeshwar Dutt, Team India.
Why and when did you decide to become a wrestler? I have been going to practices with my dad (my wrestling coach) from a very young age. My father has been coaching the provincial and the Canadian national teams time to time. This inspired me to join the sport of wrestling.
Injuries that you sustained: Nothing major, it is only cuts, bruises, and sprains.
Who has influenced you as a wrestler? My uncle, Sujeet Maan, who was an Olympian for team India influenced me a lot. He is currently the Indian National Team coach. Every time I visit my grandparents in Haryana, I go to my family's ancient wrestling club, Hanuman Akhara Delhi. It is the same akhara where my family has been training "Pehalwani" for the past four generations. This inspires me and keeps my family tradition going on.
Where do you see yourself in the next 5 years? In the next 5 years, I would most likely be wrestling and training. I will also finish my post-graduation degree, depending on how's my academic performance this year.
What makes you unique and different from competitors? My ability to come back after a deficit is something, which makes me different from other people in the wrestling room.
A message would you like to give to others who want to become a wrestler: Time is your biggest investment. Work hard and sacrifice the gadgets. You will have to cut down your social time and train for long hours.
Best advice you have ever received: In our sport, during the wrestling match you cannot lose your focus.
Any tips you want to share with the readers: Do something you love and make it your future. Work hard and make sacrifices to achieve success.
Life as a wrestler: Very busy, wrestling takes a lot of my time and effort in the wrestling ring or out of it. This includes weightlifting, track, food, and recovery.
Tell us about your most memorable match: Most likely, my provincial final, I lost to the same opponent twice before during the season scores both times were 10-0 10-0, but I beat him in the BC High School Provincial Championship with a score of 20-10 and surprised everyone in the wrestling arena.
What have you learned from this sport? Hard work, dedication and consistency play a big role.
If not a wrestler, what would you be? I really would not know, maybe hanging out with the buddies behind the school in the alley and do nothing. Life would be so much different. I do encourage people of my age and younger than me to join the school sports and stay away from the bad elements like drugs and gangs.
Your diet and fitness regime: My diet is very high in protein and I train 5-6 days out in a week.
Do you intend to play at the international level? Hopefully, yes! I am training hard under the coaching of my father, Sucha Mann. I am trying my best. Wrestling is my family sport and it runs in my blood. Starting from my great-grandfather, my grad father runs a wrestling club (akhara) in our village in Haryana (India). I hope one day I can reach the level my father and my olympian uncle achieved and keep my family passion continued in the sport of wrestling.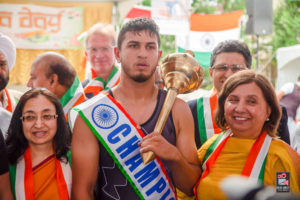 What are your achievements?
2017 BC High School Provincial Championship – Bronze Medal
2018 BC High School Provincial Championship – Gold Medal
2018 BC Summer Games, Nanaimo BC – Gold Medal
2015 India Day Wrestling at Laxmi Narayan Temple – Won Kids Champion
2016 India Day Wrestling at Laxmi Narayan Temple – Won Youth Champion
2017 India Day Wrestling at Laxmi Narayan Temple – Won Cadet Champion
2018 India Day Wrestling at Laxmi Narayan Temple – Won "Champion" Title