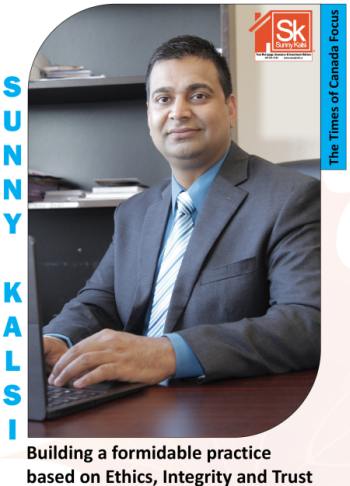 Some people are born to be communicators and some train to become one, Sunny Kalsi belongs to the first category. He is a communicator. He is one individual who can easily make friends with a stranger, a quality he uses almost every day in his business.
Sunny is a mortgage expert, RESP expert, life and general insurance advisor, financial advisor with expertise in doing investments – portfolio management, cash flow management, and retirement planning. Sunny wears all these hats very comfortably. In 2014 he was recognised as Top RESP(education savings plan) Advisor in western Canada.
Sunny came to Canada in 1997 and till 2004 he was trying to find his rightful place in Canadian job market. But the year 2003 turned out to be an year of learning and self realization and in 2004 he took his license for Life Insurance. Sunny had found his true calling.
Reminiscing on how he entered the world of Insurance, Sunny says, "In 2003 my son was born. A friend came to our home to start my son's RESP plan. The reasons she explained why parents must invest in RESPs inspired me, it changed my outlook towards insurance industry. I realised how important it is to be insured. And that's when I decided to be part of it."
In 2010 he got his General Insurance license and is attached with Gold Key Insurance. Couple of years back he took Mortgage license too and now he is working as independent mortgage advisor with Mortgage Architect.
He likes to meet new people, talk to them, in his words, "I enjoy starting conversations, it comes naturally to me. Another thing I like in my present role is the ability to help people, give them the right guidance. It is like I pay it forward what I received as advice many years back when my son was born."
The work of an insurance advisor or financial advisor is akin to that of a doctor, people want to hear the truth, the facts, and effects on future. Sunny too likes to say the truth to his clients because he believes that in finance the numbers talk and sooner or later the client will find out if numbers are fudged or not calculated properly.
The core values of his practice are be accessible, be punctual, show real picture. He says that handling someone's retirement plan, or education plan is very huge responsibility. Trust plays an important role and he is happy to have built a practice of 150 clients in last 6 years. Relating a story about how a client only invested $500 with him for two years and now he has assigned a $100,000 portfolio to him to nurture and protect. 
Insurance is very competitive market, there are many consultants with same products, offering similar services but only few are successful. Sunny says that reason for success of only few professionals in this field is because this field demands highest order of client centric approach. You cannot keep the well being of client on back burner and look for your commissions. People who work to deliver top notch customer service are successful and commissions flow automatically. 
Sunny is an astute financial planner who has his ears to the ground and knows that South Asian community is becoming aware about insurance, estate planning and hence he offers tailor made solutions keeping in mind the present and future needs of his clients. He says, "People now understand that family needs to be protected in case of a mishap or death. In recent years insurance rates have come down and this has also motivated more people to take up insurance. In case of mortgages, clients want best deals they know that there are multiple lenders."
As a mortgage expert, Sunny deals in residential, commercial and private mortgages. He has access to multiple lenders which enable him to provide best deals and rates to his client whether they are first time buyers, or have a bad credit. For him it is client's long term financial well being that is priority and he works diligently to provide a financial advice that will stabilize their finances and has lot of growth potential. 
On personal front, Sunny likes to swim, watch movies and spend time with his 12 year old son and wife when not giving consultation to his clients. Sunny's wife, Pam Kalsi is soccer coach and makeup artist and he too volunteers his time with the soccer team. Apart from that he is active participant on Vaisakhi parade in Surrey and also participates in Food drive organised by The Times of Canada every year. Sunny grew up in Mumbai before moving to Punjab and hence he can speak Marathi, Hindi, Urdu, Punjabi, English and little bit of Gujarati. His ability to converse in so many languages is an advantage and has helped him create a client base that is varied not only in terms of investment but also in terms of ethnicity.