Ranbir Kapoor and Alia Bhatt's wedding: Neetu Kapoor was spotted at Ranbir's Bandra flat Vastu for the mehendi on Wednesday. She later posted a video of him and Alia with her followers.
Soon after attending their mehendi celebration, Neetu Kapoor showered affection on her son Ranbir Kapoor and future daughter-in-law Alia Bhatt. On Wednesday, Neetu was seen arriving to Ranbir's Bandra flat Vastu for the festivities. She released a video a few hours after the ceremony that offered a glimpse of Ranbir and Alia's friendship.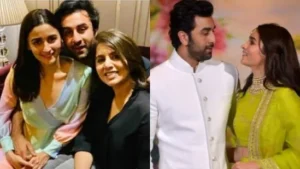 Neetu shared an old video of Ranbir Kapoor and Alia Bhatt on Instagram Stories. The retro video was taken at an event for Ayan Mukerji's film Brahmastra, which played a significant role in Ranbir and Alia's romance. They began dating in 2017 while working on the film together. Brahmastra, which will be released in September, will be their first collaboration.
Alia and Ranbir are seen standing next to one other in the video as the camera flashes on them. While Ranbir glances at Alia Bhatt, who is dressed in a blue little skirt and a sequined jacket, she is attempting to remove a thread from her outfit. After she removes the thread, he stretches out his hand to her. Alia smiles as she hands it over to him, and he puts it in his jeans pocket. Prior to their wedding, a video of Ranbir and Alia circulated on the internet. Neetu shared it again, this time with two red hearts emojis.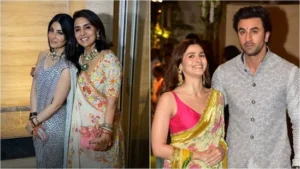 Neetu has previously fueled rumours that Alia and Ranbir will also tie the knot on Wednesday. The star, who married Rishi Kapoor on April 13, 1979, uploaded a throwback photo as she reflected on the occasion. "Fond memories of Baisakhi day (love eyes emoji) as we got engaged 43 years ago on April 13th 1979," she added. Fans began to speculate whether Ranbir and Alia will tie the knot on the same day as her and Rishi. Later that evening, Neetu confirmed to the paparazzi that Alia and Ranbir will marrying on Thursday, April 14 at Vastu.