Hundreds of thousands take to the streets across the world, denouncing Russia's invasion of Ukraine.
Officials from Kyiv plan to meet Russian counterparts, hours after President Vladimir Putin put his country's nuclear forces on higher alert. Belarus was preparing to send troops into Ukraine as soon as Monday to help its ally Moscow, the Washington Post reported, citing an unnamed U.S. official.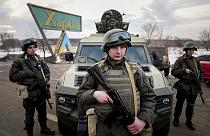 Ukrainian President Volodymyr Zelenskiy voiced skepticism that talks planned with Russia for near the Belarus border would yield results but said he was willing to try if it meant any chance of peace.
Russia's central bank temporarily banned non-residents from selling securities and the U.S. advised its citizens to consider leaving Russia immediately.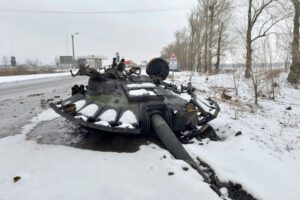 The U.S. and its European allies stepped up their response to the escalating conflict, announcing plans to sanction the central bank in Moscow and cut off various Russian lenders from the critical SWIFT financial messaging system. The offshore Russian ruble fell nearly 30% against the dollar, which rose against virtually every peer. U.S. President Joe Biden planned to speak with allies on the crisis Monday morning in Washington.
Russian airlines face the risk of jetliner groundings as sanctions imposed over the Ukraine invasion threaten their ability to fund rented planes and leasing firms look at enforcing default measures.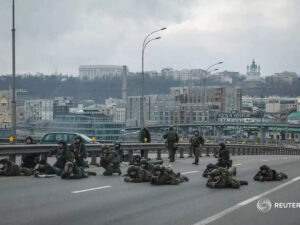 More than half of the active commercial aircraft based in Russia are leased, mostly from companies based abroad, according to analysis from IBA Group, which advises airlines, planemakers, banks and lessors. That tally includes scores of aircraft at flag-carrier Aeroflot.
U.S. equity futures slid, while bonds and commodities including oil rose, amid heightened market uncertainty after Western nations unveiled harsher sanctions on Russia for the invasion of Ukraine.
Rallies in a dollar gauge, gold and Treasuries underlined the demand for havens. The euro fell on worries about risks for Europe's economy, which relies on Russian energy. An Asia-Pacific equity index slipped as Hong Kong struggled. Bitcoin pared losses to trade near $38,000.