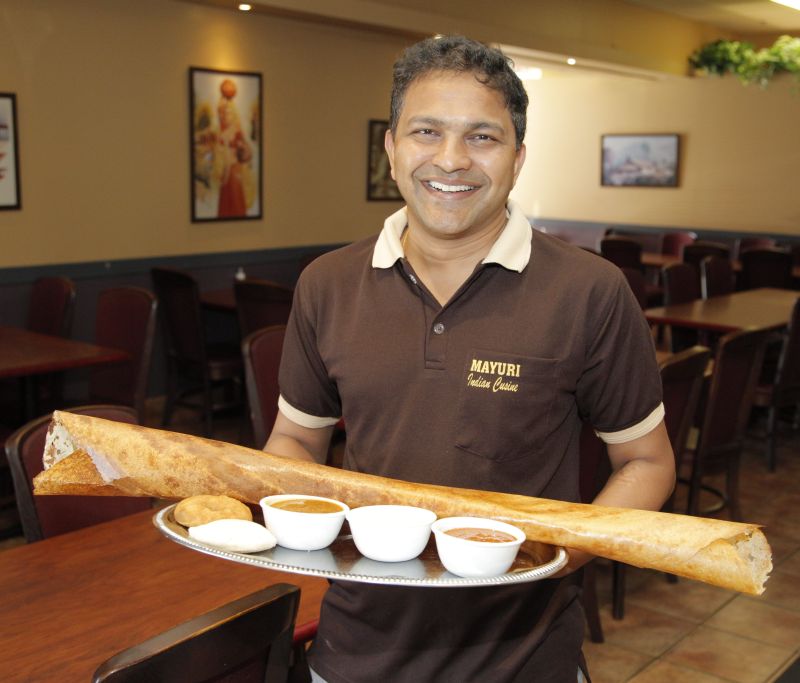 On a fine day in October 2005, Saidireddy Shanampudi, an IT professional landed in Canada. He had left his job at UN population fund located in Caribbean to explore the opportunities Canada offered, and today 10 years later he is proud and happy immigrant, well settled in Surrey and contributing to the growth of Surrey through his business –Mayuri Indian Cuisine.
The transition of Saidireddy from an IT to a Hospitality professional is very interesting. He bought the Mayuri in February 2006 from a friend who lived in US and had opened this business to make and sell sweets, especially export them to US. As luck would have it Saidireddy found out that the friend is planning to sell the Mayuri and he bought it. Buying a restaurant within 6 months of landing in Canada is not a small challenge. Till 2008, Saidireddy kept working full time in RBC and running the restaurant with the help of his wife RajithaKatram. Now for past 7 years he has been fully devoted to Mayuri and its diverse clientele.
When asked about the challenges of running a South Indian restaurant in a Punjabi dominated Surrey, he says," Infact being in Surrey worked out to be a blessing in disguise. People here love South Indian food, some of them have been coming regularly for so many years that I have witnessed little kids grow up and go to universities but they still come here to have authentic South Indian food!" Mayuri is a pure vegetarian restaurant, liquor is also not served here yet it has been famous with foodies from around the Metro Vancouver areas. They serve 30 types of delicious dosas and various South Indian dishes not to be found anywhere else.
One person Saidireddy says that made all this possible is his wife. She stood with him like a rock and worked very hard in the restaurant to make it a success. Saidireddy and his team work every day to ensure that the quality and consistency of recipes is maintained. Couple of years back Mauyri was given the Reader's Choice Best Vegetarian Award by Surrey Leader Newspaper. It has been featured in Vancouver Sun too. When asked about opening more locations of Mayuri, Saidireddy says, "I did open one location in Abbotsford, but now I am in process of closing that. The idea of expansion is tempting but I don't want to lose on the quality and taste of food at all. With Surrey location doing so good, I don't have time to go to Abbotsford. My wife and I have worked real hard to build Mayuri's name, it is like a baby for us, we do not want to compromise on the brand promise of Mayuri therefore we are happy with one location, maybe we will expand this one."
"At times people enquire about franchises but making and serving food is not everyone's cup of tea; to be successful in food industry you need to be attuned to the tastes and aromas of the original recipes, sensitive to the likes and dislikes of your patrons. This is not a money minting business that can be put on auto pilot and will earn you returns every day. In this business you have to spend lots of time in the kitchen perfecting the recipes."
Saidireddy has a simple mantra, if a customer leaves food in the plate, then it means that recipe needs some work and this is a yardstick to judge his performance for that day. The smiles and a thank you after someone enjoys a meal here are our rewards. It keeps us motivated.
Talking about competition, he says competition doesn't effect his business negatively, in fact every time a new restaurant opens nearby and has South Indian food on its menu, Mayuri gets busy, reason – people compare and realize that if they want to enjoy South Indian food then Mayuri is the best place to go.
Saidireddy and RajithaKatram have two boys who enjoy being at Mayuri and understand that their mom and dad have worked real hard to make this restaurant a perfect place to eat authentic south Indian food on the west coast. Saidireddy and Mayuri's success are true reflection of how hard work always flourishes and Canada is a land of opportunities and it gives chance to everyone to succeed.