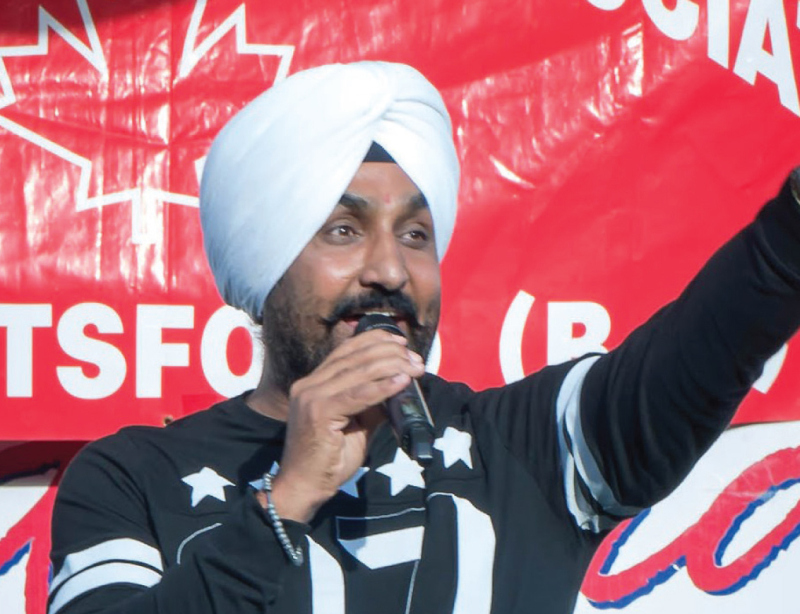 Jassi Jasraj, a well-known Punjabi singer and a social activist visited Abbotsford, BC, to take part in the Gadri Mela, organized by the Lok Virsa Group in September. AAP Support Group BC, a group of social activists who have been working tirelessly in the Lower Mainland for past three years to raise awareness and support for the socialistic, progressive and transparent political party of India, Aam Aadmi Party (AAP) arranged for his participation in this mela. Despite of the ill health of his wife, Jassi spared three days for the organizers to fulfill their vision of promoting AAP in the locals. Jassi ran the last federal election as AAP candidate from Bathinda, the core and hottest seat of Punjab, where Harsimrat Kaur Badal (SAD) and Manpreet Badal (PPP) were his opponents.
At the Vancouver Airport he was received with much zest by the Coordinator, Ms. Darshan Mann and members of AAP Support Group BC. Shortly there after he attended an intense meeting with the members about the party progress and future plans towards the MISSION 2017, provincial elections in the state of Punjab. After a brief break, Jassi attended a TV interview with Asian Connections. During this interview he was upfront and answered all controversial questions. Following to this intensive interview, he attended a dinner gathering in which again he opening shared his experiences with AAP and also his personal experiences with corruption in Punjab. All attendees stood on toes to listen to his views.

He also visited Laxmi Narayan Mandir, Surrey where he held a meeting with the management committee and then spoke with the devotees in the open darbar. His patriotic spirit captured the atmosphere and united them all towards serving their great country, India.
He performed at the Gadri mela admist cheers from the audience who had to come see their favorite artist perform. Before Jassi, there had been many singers and performers who had entertained the crowds but there came two personalities who were worthy of the respect of the public. Senior and respected members of AAP Support Group BC, Karam Singh (89 years old)  gave a moving speech and his wife Veera ji who is the daughter of Shaheed Baba Bhaknaji, recited a revolutionary poem that shifted the energy of the event to the next level of devotion and dedication. After these respected personalities of the lower mainland, Jassi was invited to the stage. As he got up on the stage, and sang his, "Hor gadar di lorh", the crowd could not hold themselves from supporting AAPideology to save India and raised their arms with full faith and support in the leadership of Arvind Kejriwal. Many supporters came to shake their hands with him, many elders gave him blessing, and youth was very happy to take picture with their idol. The spirit of full support in making a change in Punjab during the 2017 election was in air, his singing and speaking was motivations and inspiring for the attendees. Thereafter he was proudly honored by the Lok Virsa Group to thank him for joining this event and sharing his patriotic views with the huge gathering in the open grounds of the Rotary Stadium of Abbotsford.
While here, Jassi took open calls on 1600am radio station, Media waves with reputed host, Mr. Gurvinder Dhaliwal. He was asked many critical questions that went from concerns about the interparty disputes to the subsidy for the farmers. He came through as a confidant, compassionate and a capable spokesperson for the party.
AAP Support Group BC, thank Jassi Jasraj for sparing his time and also the locals who welcomed him with their open arms.
The group is looking forward to their next initiative of standing shoulder to shoulder with the Sikh Nations in their Annual Blood Donation drive that they hold every November.  The group will plan its activities for the blood donation event under the leadership of Tarlochan Sohal, Sukhdev Mann and Gurpal Dhillion. Coordinator, Ms. Darshan Mann, encourages all to join hands to not only for the change we need to bring in India but also in the local initiatives that are run by socialistic and progressive organizations such as Our Global Village Charitable Organization, Sikh Nation, Canadian pressure group and others. For any future activities of the group, Darshan Mann can be contacted at 778-883-4262.