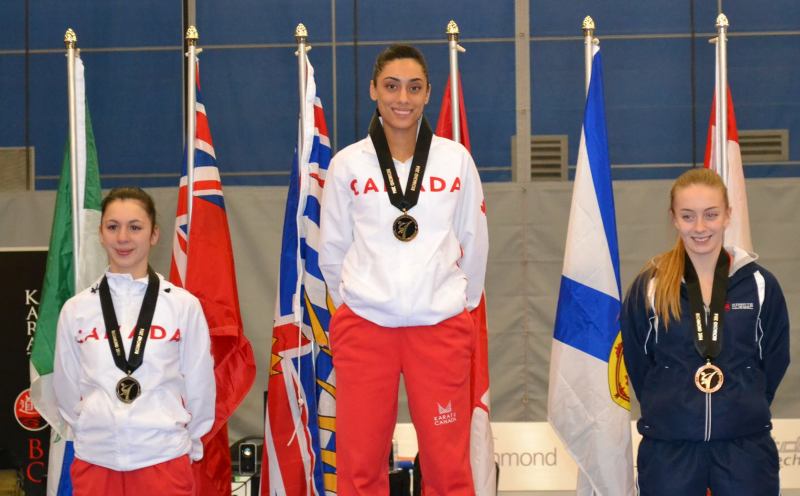 Recently, The Canadian Olympic Committee (COC) and Karate Canada announced the 10 karate athletes nominated to represent Canada at the TORONTO 2015 Pan American Games from July 10 to 26. Karate BC member Jusleen Virk is also part of 10 member team. She will be competing in the Women's Kumite -50kg.
Jusleen's Career Highlights:
• Jusleen is an eight-time national champion (with over 15 national medals)
• Gold medal at the Junior Pan American Championships
• North American Champion
• Commonwealth Champion
• 3 time US Open vice-champion
• A top 7 finish at the Junior World Championships
• Podium finish at the Premier League Salzburg International OpenAwards:• Karate BC athlete of the year: 2009, 2011, 2012, 2013,2014
• Premier's athlete of the year: 2009
• Karate Canada Student Athlete award: 2012
Jusleen Virk started karate at the age of six and has been a member of the Karate Canada National Team since 2006. She made her debut onto the Senior National team in 2009 and later won her first Senior National title in 2012. The opportunity to represent Canada at Pan American is a dream come true. She missed an opportunity to be part of Pan Am Games in 2011, but being a fighter, Jusleen took this minor hurdle in her stride and worked hard to fulfill her aspiration and today she has made everyone proud. Jusleen's parents Jatinder and MLA Amrik Virk are proud of their daughter's achievement. Her mother is elated at her success, she said, " Jusleen has worked hard for this. She is very focused sportsperson. We are proud of her and confident of her success at the Pan Am Games. I truly believe that she is going to make Canada proud."
Commenting on her selection in the team, Jusleen said, " I have strived to represent Canada at the Pan American Games for as long as I can remember, and it is a great honor to be one of the two only British Columbia athletes to ever do so in karate. Earlier it was Shaun Dhillon who captured a bronze medal at the 2011 games held in Guadalajara, Mexico."
The road to the games is not an easy one but with Jusleen's determination and strong will, there will surely be a favorable outcome. She is looking forward to share the podium with her fellow Canadian athletes and represent her country on home soil in Toronto. Apart from her sport career goals, Jusleen aspires to attain her Doctorate of Dental Medicine. We wish Jusleen success and best of luck for the upcoming games and a bright future ahead.