Sujeewa and Kanchana arrived on a chilly morning of February 2013 at the Vancouver international airport as new immigrants. Sujeewa was a mechanical engineer in automotive field and Kanchana was an Admin Manager back in Sri Lanka. They moved to Canada to explore newer job potential and to ensure a good future for their two beautiful daughters. At the airport, one of the officials at the immigration handed them a bunch of resource leaflets, which would be helpful for new immigrants on their initial period in Canada.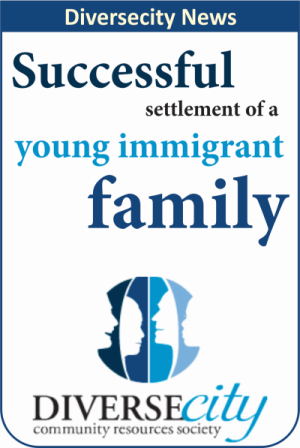 In Sujeewa's words, "Once we reached to our newly rented out place we all were exhausted with long flight, hence all of us had a good sleep. Next day we two were going through the leaflets and we were attracted with the DIVERSEcity leaflet more than the other ones. So we decided to visit them as soon as we got time".
The initial days here were all about getting formalities done with service Canada and seeking admissions for our daughters to school. About 7 days after landing in Canada they were ready to begin their quest for jobs and decided to begin with DIVERSEcity Community Resources Society at Newton in Surrey.
After a helpful meeting with Settlement worker, Raihan Akter, who gave them a brief introduction about the organization and helped in filling up the required forms such as Child Tax benefit, Child Care Subsidy, MSP and Fair Pharmacare and introduced them to the Employment Services where they met Johnson Varghese and Peter Sajgalik ,Career counsellors working in an array of Employment and Trade programs. After obtaining their relevant back ground professional details they were guided towards two different programs pertaining to their backgrounds.
Sujeewa was referred to the Immigrant Trades Training Initiative program funded by Industrial Training Authority (ITA). This program focuses on preparing and educating immigrants on qualifications required gaining Canadian work experience.Through ITTI, new immigrants are able to gain labour market information and be informed on Canadian certification processes as well as Industry Training Authority (ITA) apprenticeship and Red Seal certification rules and procedures. The program empowered him with knowledge on job market in Canada informative sessions, like resume writing, interview techniques, obtain credential evaluation to get recognition in Canada and financial assistance for undergo relevant courses in his trade. Sujeewa was able to use the resources and funding through the program and get the Red Seal Certificate as an Automotive Service technician and find work in his field.
Kanchana was referred to the Job Options Program which is a 10 week program whereby the client is in class learning life skills, employability skills and interpersonal skills to equip themselves to work in Canada. The last five weeks of the program involves work experience where Kanchana was able to find work as Payroll Assistant. She went on to upgrade her qualifications by being a certified payroll professional and now working as Payroll Administrator in a well-known company. "At times we were so frustrated, disappointed and tired of finding a suitable job, but even at such situation those people at this organization has given us the strength to with stand with all kind of hardships" quipped Kanchana when asked about her struggles as a new immigrant.
Looking back, they are happy to reach their goals in terms of their career and now have bought a house and the road from here can only be better. Lastly, they summed up that "organizations like DIVERSEcity have lived up to their mission statement "To promote the independence of new Canadians and to build strong, culturally diverse communities" proving good for us.