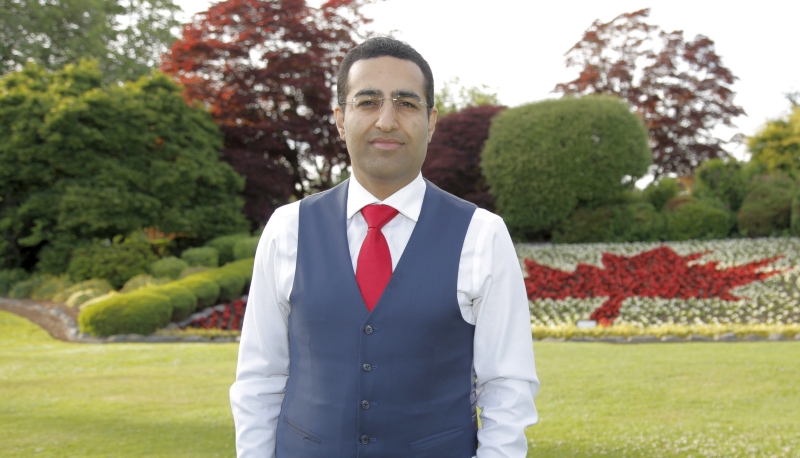 As many of our readers know, the cover story in our last issue was about Mr. Satinder Dhillon, who despite having had his life threatened, challenged, head on, the multi-billion dollar corporations that sought to silence him. This is Canada's own David versus Goliath story. And since our last story was printed, Mr. Dhillon was sent to jail over the allegation of blogging.
What is even more shocking, is that in order to jail him, the courts used a colonial era law which is over 800 years old. The law itself is so old, that on the books it's still technically punishable by death, even though Canada abolished the death penalty in 1976. Other countries have since modified the old law, but Canada has yet to do so. This law is also the last exception left under Common Law in Canada.
What made this trial so shocking and unbelievable was that Mr. Dhillon was not allowed to use the truth to defend himself in court. Judge Heather Holmes also denied Dhillon the right to question any of the witnesses that were subpoenaed during his trial. Furthermore, she also did not let Dhillon look at a file, that KPMG (the world's 4th largest account firm) has been keeping secret for over for 15 years. A file which he is entitled to view by law.
In the blogs in question, it had been alleged that KPMG caused over $800 million in damages and that a very large income tax fraud was committed by certain banks and accounting firms. This same judge denied Dhillon the right to even apply to have the trial televised (as he had requested). Dhillon was also denied a jury of his peers and Judge Heather Holmes was also the one that sentenced him.
In the end, some five years after being arrested, Dhillon was sentenced to 30 days in jail by Judge Heather Holmes. He spent a week in prison before he was let out on bail, pending an appeal being heard, which he had filed the same day he was sentenced.
Due to the fact that the he was sentenced on a Thursday and the government would not consent to having his bail hearing heard earlier (and the weekend was around the corner), in the end, Dhillon was forced to endure a full seven days in prison. During the entire time he was in prison Dhillon fasted and did not eat anything.
Dhillon stated in our previous interview with him, that he was willing to go to jail to defend freedom of speech in Canada. He stayed true to his word and did so in the end. He did not bow down to the pressure that was put upon him and we are happy to report that prison did not break his spirit.
In fact, Dhillon was offered a deal by the government before the trial started, that if he removed the blogs and made a donation to a justice youth group, that the case would be dropped. Dhillon refused to back down from the truth and battled on.
Fortunately for Canadians, Dhillon has vowed to fight for as long as it takes, and eventually go to the Supreme Court of Canada, if need be, to make sure Canadians are not left without the right to use the truth in Canadian courts in the future.
Dhillon, is currently writing a book about judicial corruption and white collar fraud in Canada and the trials and tribulations he has faced over the years because of his battle against the corporations. After completing the first round of this historic freedom of speech trial in the lower court, the next round now will be heard sometime next year in the British Columbia's Court of Appeal.
The blog that is alleged to have been written by Dhillon, outlined serious corruption in Canada. To this day no one has ever directly challenged any of the actual contents of the blogs, instead court transcripts show legal chicanery, sidestepping, and avoidance at every turn.
"I think the fact that I was not allowed to use the truth in court and was not allowed to view the file in KPMG's possession, and was also not allowed to cross-examine any witnesses speaks for itself". 
"Due process was completely stripped away from me, and in the end they did actually put me in jail, something most people thought could ever happen in a country like Canada. This is not why my parents immigrated to Canada, and this is not why they sacrificed and help build this country" said Dhillon.
During his stay in prison, Dhillon said that the sheriffs, nurses, prisoners and most of the guards, treated him very well and with great respect. Most were appalled and shocked when they heard the reason he was there. Also during his time in prison Dhillon ironically found a book to read entitled 'The Incredible Adventures of Louis Riel – Canada's Most Famous Revolutionary'. "It was very nice of the staff there to let me take the book home" stated Dhillon.
"I have some very interesting stories from the week I spent in jail and I actually made some friends. I would say that it is not what most people think it might be like, that is for sure. Everyone I spoke to, guards, nurses, sheriffs and prisoners, all agreed that the prison system was in desperate need of reform in Canada. I learned a lot from actually being inside and witnessing it first hand. Hopefully with a new government in place now in Canada, things can change for the better, on many fronts, in this country" added Dhillon.
Since coming out of prison Mr. Dhillon has continued his activities as a businessman and social activist and blogging for the Huffington Post. His commitment to fighting corruption remains un-wavered and we expect to hear a lot more from Mr. Dhillon in the near future.
Mr. Dhillon has been contacted by many people for interviews since coming out of prison and has said that he will be speaking to the press at large, most likely, in the new year sometime, as he was focused on his business activities and recuperating from a long trial and the many days spent in the courts leading up to the sentencing. Currently there is a documentary, T.V. series and full length motion picture in the works about the whole saga, that has consumed over 15 years of Mr Dhillon's life and still continues with an appeal to be heard next year. The judge that presided over the first hearing in the Court of Appeal stated that 'this kind of case was very rare'.
Ironically, since Mr. Dhillon's incarceration, the CBC, Huffington Post and numerous other media outlets, have reported on KPMG's massive tax fraud scheme and KPMG being in breach of a court order for over two and a half years, and the Harper Government seemingly not doing anything about it. There are now calls for a criminal investigation of KPMG as well. How was it that taxpayers in this country were forced to fund a trial against someone like Mr. Dhillon and KPMG was able to avoid prosecution for so long?
How intertwined Mr. Dhillon's case is to any of the numerous stories that have come out in the past several weeks about KPMG and the old Harper Government, remains to be seen but one thing is for sure, there seems to be a lot of unanswered questions in regards to how accounting firms are conducting themselves in Canada and across the world. We here at the Times of Canada will continue to cover this story and keep our readers updated as things progress.
We want to thank our readers for all of the positive feedback that we have received in regards to the story we wrote about Mr. Dhillon in our last issue. And for those that have not read it you can view it online at: https://thetimesofcanada.com/satinder-dhillon-modern-day-revolutionary/