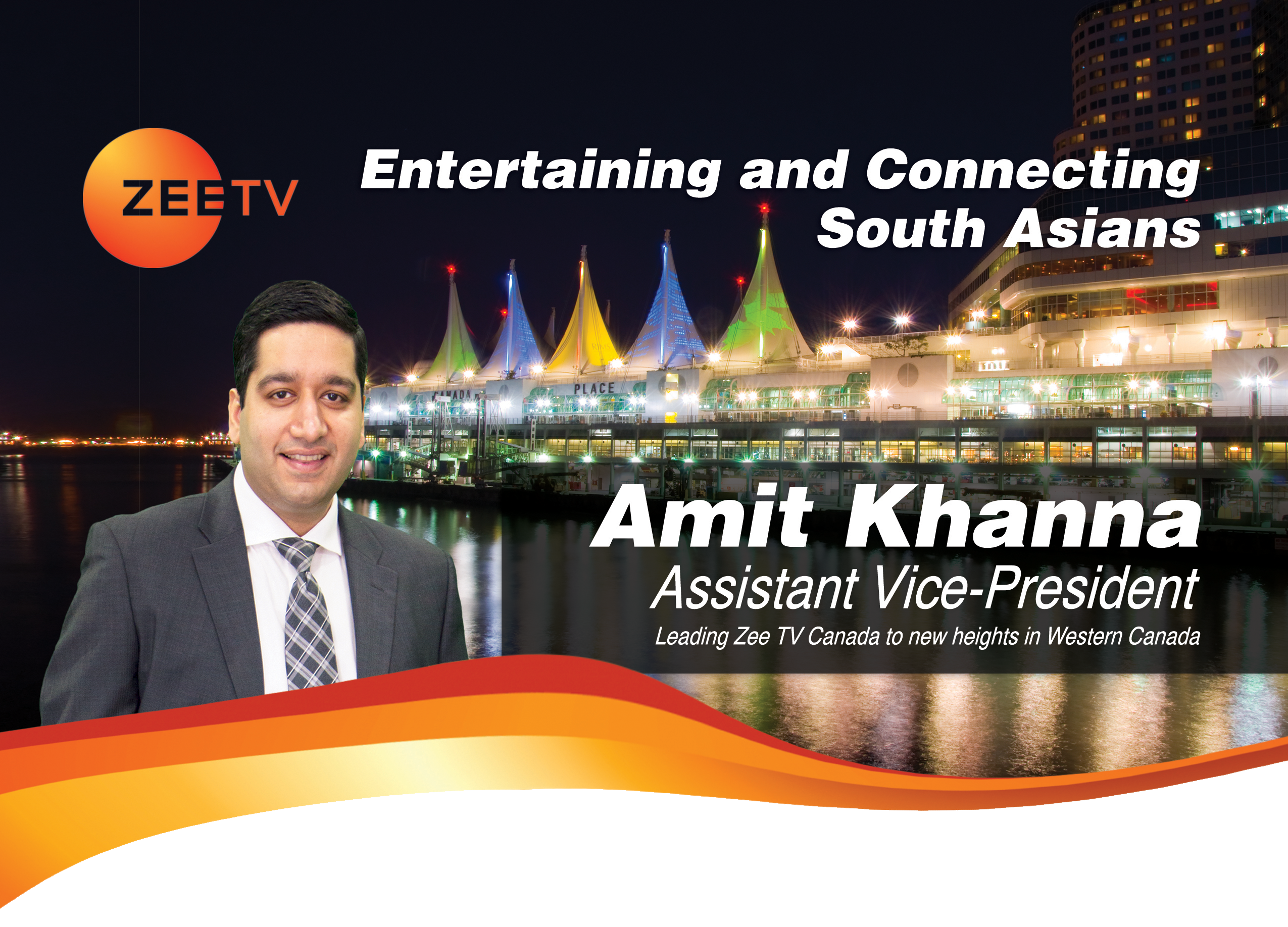 Very rarely would you see success following someone in different parts of the world…but then if hard work, sincerity and gratitude don't lead to success, what would? The story of Zee TV and its Western Canada Sales Head Amit Khanna, is a captivating example of how this can be done in real life.
Zee is a worldwide media brand offering entertainment content to diverse audiences. With a presence in over 172 countries and a reach of more than a billion people around the globe, Zee is among the largest global content company across genres, languages, and platforms.
Like its Indian counterpart, Zee TV Canada is capturing the imagination and mindshare of Canadian audience. Canada, especially Western Canada has a sizeable South Asian diaspora which is still very strongly connected to its roots and loves Indian TV content with great delight.
In 2015, Zee TV sent one of its best leaders to Canada to build Zee brand here. Amit Khanna, the always-smiling Sales Head of Zee TV Punjab was transferred to Western Canada to serve the needs of South Asians here.
Amit came to Surrey in April 2015 and never went back. In his own words, Amit says, "The vibe of Surrey is brilliant. When I saw massive gathering of people at the Vaisakhi parade, I was simply amazed. Something that stood out for me was the urge of South Asian origin residents to stay connected with their culture and roots, and that is when I knew it in my heart that I can make Zee TV work here."
Amit put in relentless efforts to promote, engage and interact with South Asian as well as Canadian audience. He had no local references, no local help. All he had was his confidence in himself and unflinching support of his corporate leadership in USA and India. Amit's capabilities to scale up operations here in Canada have started to pay off now. Today, Zee TV Canada is well established media platform in Canada, especially in Western Canada.
Amit came up with a visionary approach focusing on local Content. Two years back, Amit and his team started a unique program to connect with the South Asian population of British Columbia, they called it BC Roundup. The program was an instant hit and has built a loyal viewership. The program covers all the local community events relevant to the South Asian community.
Talking about BC Roundup, Amit says, "This program has truly connected Zee TV Canada to local South Asian population. The main idea behind this program was to connect and engage the local community with our brand and make it a part of their lives."
Zee TV western Canada team launched another program –  Happy Zee family. This is a fun family-based program that takes Zee TV right into the homes of its patrons. So far Amit and his team have hosted 17 local families at the show. It was a big hit with families sending requests to be featured on the hit show.
Zee TV plans to open its Surrey office shortly to further the pursuit of entertaining and connecting South Asian community. Amit says, "It took a lot of effort to find right people to build the team and create interesting local content, and establish Zee TV Canada as brand, but I am glad I met some very talented people here and we are now running one of the most successful Zee TV platforms ever. We are proud of the people of Western Canada who love it so much."