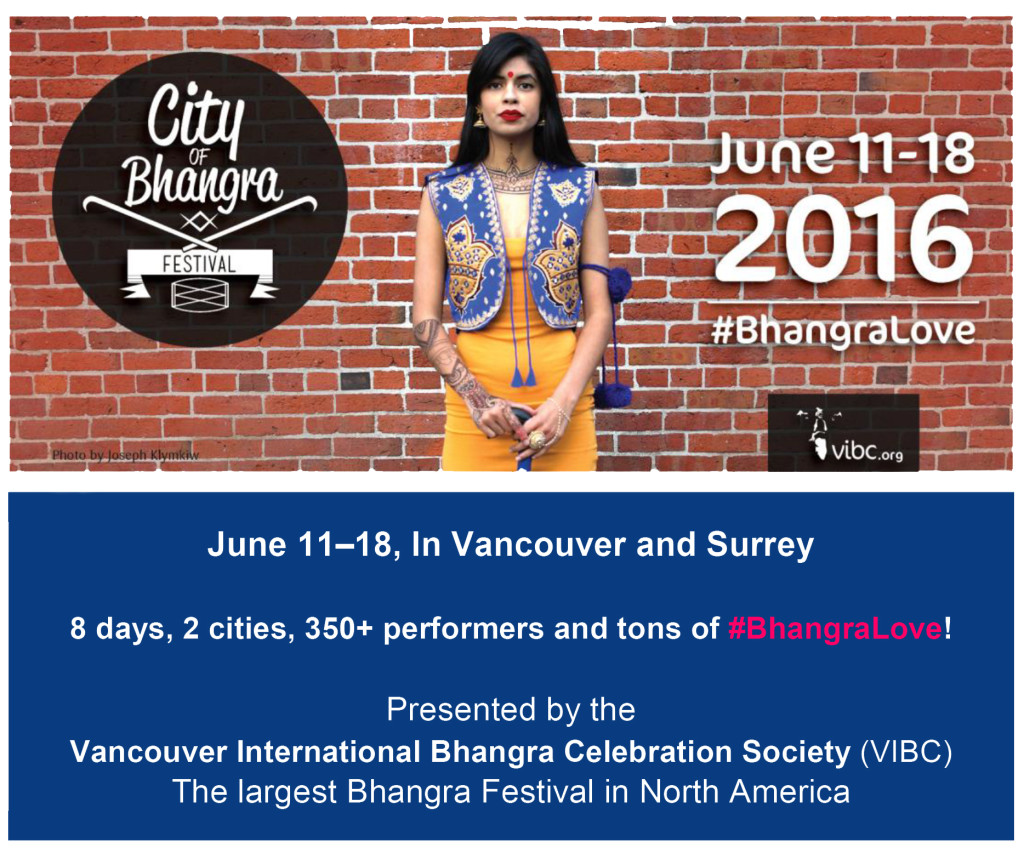 KICKOFF PARTY: CRASH AN INDIAN WEDDING    
Sat June 11, 9pm-2am, $25/30 at door, Club 560, Vancouver (19+)
Indian weddings are lavish affairs ending with epic receptions. VIBC invites you to come out and enjoy this extravagant event; put on your party dress but no gifts please! Featuring local DJ Khanvict, aka Asad Khan, the top South Asian/Fusion wedding DJ on the west coast. He won accolades at the BC Wedding Awards, and the South Asian Wedding Awards. More Info
WHERE NOT TO DO BHANGRA
Sun June 12, 7-10pm, $20/25, Rio Theatre, Vancouver (19+)
Take I Can't Believe It's Not Butter Chicken, throw in some burlesque bhangra, and you've got a crazy night of comedy, dance, and pure entertainment. Pushing buttons and pushing boundaries. More Info
BHANGRA ON MAIN
Tues June 14, 8-9:30pm, $15/29 (door add $5), Fox Cabaret, Vancouver (19+)
Experience the intimate side of bhangra in this all-acoustic evening featuring renowned Punjabi musician and singer Vijay Kumar Yamla. Narration by Vancouver's Mo Dhaliwal. More Info
BHANGRA: SHE – Presented by TD Bank Group
Thurs June 16, 5 – 9 pm, FREE, Kwantlen Polytechnic, Surrey
Strong, creative, empowered and empowering: join six fearless young women as they share their stories of struggle and achievement on the way to success. Featuring activists and educators, DJs and producers, actors, rappers, and filmmakers, this one-day event is open to everyone, but especially South Asian youth with an interest in the arts, identity, and the politics of gender. Featuring Horsepowar (Jasleen Powar), Bianca Maieli, Rakhi Mutta, Kiran Rai, Jasmine Sandlas, and Malinder Tooray. More Info
DOWNTOWN BHANGRA
Fri June 17, 5-10pm & Sat June 18, 4-10pm, FREE, VAG Plaza
Don't miss Vancouver's BIGGEST backyard party of the year: a two-day open-stage party for the whole family with nonstop bhangra in the heart of the city. With over 325 local, national, and international superstars, VIBC will have you up and dancing!
VIBC OFFICIAL AFTERPARTY
Sat June 18, 10pm, $25/30, Club 560, Vancouver (19+)
What better way to wrap up the biggest bhangra festival in North America? Join the hottest DJ's on the dance floor as they spin the latest and greatest bhangra and urban beats. Featuring DJ KSR, one of the best known bhangra DJs out of North America. More Info
The City of Bhangra Festival features local stars and international superstars such as:
Jasmine Sandlas, a star singer/songwriter from India who specializes in R&B and Bollywood, to Hindustani classical music, and Punjabi rap. Her latest release is Sunny Leone's Ishq Da Sutta video song from the upcoming movie,One Night Stand.
Vancouver rapper Horsepowar (Jasleen Powar), uses Bollywood theatrics for a sonic and visual journey from Canada to India, and back again. Her latest mixtape is Out2Lunch.
From India, Vijay Kumar Yamla brings his gold medal winning talents to Vancouver. The grandson of a renowned folk singer, Vijay is a virtuoso with both classical and bhangra instruments. He performed for MTV Bombay with renowned Punjabi Singers Gurdas Mann and Diljeet Dosanjh.
Malinder Tooray, MTOORAY is the USA's first female dhol player, who's performed at the Oscars, and the Grammys Afterparty. MTOORAY is known for fusing traditional tribal drum beats into hiphop, house, and electro music. She's played for many of India's top music artists.
Information: www.vibc.org   www.facebook.com/vancouverbhangra/
Media Contact: Helen Yagi (604) 736-5517, or hyagimedia@gmail.com