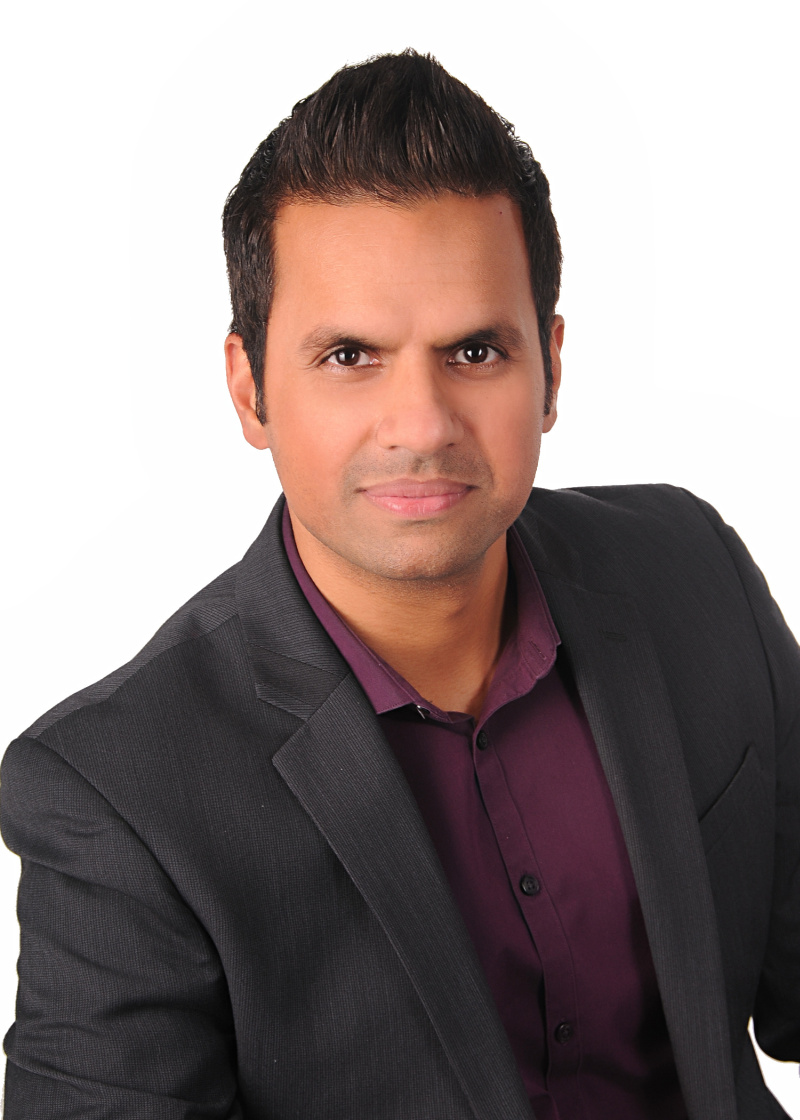 'Vijay' Vaibhav Saini's identity is his captivating voice which has been a regular part of RED FM, Vancouver. Vijay became a part of the stationsoon after its launch in early 2006. After immigrating to Canada with his parents in the year 2002, Vijay studied Business Administration at Kwantlen Polytechnic University. His first job was with Radio Punjab and he credits Sukhdev Singh Dhillon for giving him the break into the field of Radio Jockeying. Besides being on the radio, Vijay is alsoa professional translator & creative consultant for various advertising agencies, a voice over artist and an actor. Vijay was first seen in the Punjabi movie Jag Jeondeyan De Mele (2009) with Harbhajan Mann & Tulip Joshi.  His second movie, Channo, with well-known Punjabi cinema actors, Neeru Bajwa and Binnu Dhillon is slated for release in early 2016.Vijay has acted in several TV commercials and also co-hosted two seasons of a health show on Chek TV.
A simple and suave young man, Vijay is constantly looking for opportunities to learn, grow and be a better version of himself.Vijay says he is both dreamer and a believer. He says, "It is important to always be ready because when the opportunity knocks, you may not have much time to prepare.  Every experience, no matter how small it may seem, prepares you for a bigger challenge."It is this attitude which helps him keep his focus and prepare for his big moment which, he believes, will come.
His earlier assignments at Red FM were copywriting but slowly he moved on to hosting on-air shows. Today, he is a host at RED FM Vancouver and is the program director for Red FM Calgary. He also owns a company called, 'Words & Voices' which provides translation, creative consultancy & voice over services. He also does lot of on-camera work and has been a part of several educational videos and TV commercials. He hosted two seasons of a TV show called Empowered Health for CHEK TV, which was telecast in BC and parts Alberta.  Vijay is also a licenced Mortgage Professional.
The versatile Vijay also likes to write poetry. He says, "I write it for myself. Poetry serves as a medium for me to express my thoughts and also, at times, it is a stress buster".  Having received a lot of positive feedback from people who have read/heard his poetry, Vijay has been mulling on the idea of publishing a book of his poems.  His favourite author is Gulzar, and he also likes reading the works of Nida Fazli, Ahmed Faraz & Irshaad Kamil.
Ask him about one thing that he would like to add onto his impressive resume, he says, "I have always wanted to learn Urdu.I love the delicacy of the language."Born in Malerkotla, Punjab, Vijay grew up in Chandigarh and can fluently communicate in Punjabi, Hindi, and English.
Talking to an artist and a movie actor, it is natural for conversation to go in direction of Bollywood, so upon being asked about his favourite movie star, the answer was not surprising but perhaps not somethingone would expect from a young person; Vijay's favourite movie star is none other than Amitabh Bachchan! And that's why he has the prefix 'Vijay' to his name.His legal name is Vaibhav.  Yes, many people don't know that 'Vaibhav' became'Vijay'because he is a fan of Amitabh.
Narrating the story behind the name, he says,"Iwas 18 when I walked in for an interview at Radio Punjab.  The CEO of the station, Sukhdev Dhillon interviewed me and was impressed with my voice and diction.  However, he had one hesitation. He said that the name 'Vaibhav' will be too difficult to pronounce for many listeners and it would be better if I use a pseudonym. I love my name 'Vaibhav' and I wanted to keep it that way. But, I also saw the point in what Mr. Dhillon had said. I did not want to anglicize my name. Mr. Dhillon asked me to think of an easy name, I couldn't. Then he asked me the nameof my favourite movie star and I replied, Amitabh Bachchan. That was it. Since Amitabh played a character named 'Vijay' in many Bollywood movies, Mr. Dhillon named me Vijay. That's how I got my Radio name and now I am known as VijayVaibhavSaini".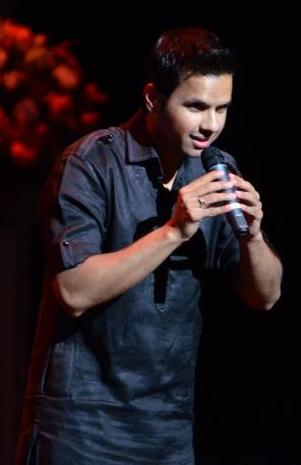 From conducting talk shows on political and social issues to hosting entertainment shows featuring peppy Hindi/Punjabi tracks or soulful music punctuated with expressive poetry, Vijay has shown the versatility of his broadcasting talent and continues to work on improving his presentation style. Vijay is the youngest and thedarling of his family. He credits his parents for raising him to be a confident, self-assured individual, and he is grateful to his sister who has always motivated him. Heshared a close bond with his extended family back in India.  Vijay says, "Maa is my biggest motivator and my most honest critic, Papa is my most enthusiastic cheerleader, and didi is my source of strength and inspiration." When asked about this biggest strength, Vijay says that it is his receptivity to feedback. "One of my teachers once said that in today's world feedback is the most important tool.  How you give feedback will determine how others around you will grow, and how you take feedback will determine how you will grow. I never forget that lesson", said Vijay. He added, "Any suggestion or critique alwayshelps an artist to do better and I am always open to it."About his association with RED FM, Vijay says, "I have been fortunate to come across many people in my life who have put a lot of faith in my ability.  The team at RED FM is my Canadian family. They have been extremely supportive, understanding and encouraging.  Because of RED FM, I have had the privilege of becoming friends with some highly gifted individuals who have taught me a lot. The management provides me full creative freedom, something an artist always yearns for".
When asked what he would like to say to our readers, Vijay borrowed a verse from the song of his favourite lyricist Gulzar, and said, "…meri awaaz hee pehchaan hai, agar yaad rahe…" (…my voice is my identity, if you can recognize it…)
We, at The Times of Canada, wish Vijay all the best for his future and for his upcoming movie,  Channo.  We are delighted to have a rising star within our community who is will make all of us more proud in the days to come.