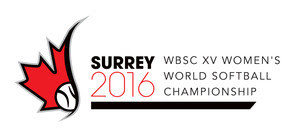 June 28, 2016
Vancouver, BC – With Venezuela in the throes of both an economic melt down and humanitarian crisis, three years of training and fundraising by it's national women's softball team was about to be for naught, that is until a White Rock businessman stepped up to make the team's dream a reality.

Venezuela, a strong softball and baseball playing country, is ranked in the top ten of the sport globally, but last minute efforts to allow the team to travel to Canada for the 2016 WBSC XV Women's World Softball Championship failed. It was then that White Rock businessman Addison Hubert stepped in to donate $25,000.00 towards the team's costs, allowing them to remain in the Championship.

"This is an incredibly generous and far reaching gesture," says event Chairman Greg Timm. "Without Mr. Hubert stepping up, Team Venezuela would not have been able to attend the World Championship in a sport that is played in the streets and parks across their country. His generosity will allow a team of athletes to inspire a generation of young girls in that country, and for that, our organization is incredibly grateful."

Hubert, of Preferred Choice Properties, already has ties to the impoverished country. He is currently building a church in Venezuela and is extremely supportive of the women's national softball team. "Sport is extremely important in every country – the Venezuela Team has worked exceptionally hard to participate in SURREY 2016, and I am pleased to help make that a reality," says Hubert. "I was recently in Venezuela and met with the team and it is clear that they have unparalleled passion for the sport. I hope that people in this region come to the event to support Team Canada as well as teams like Venezuela in their effort to secure a medal at the World Championship."

The Women's World Softball Championship, SURREY 2016, will welcome the world's most prestigious softball athletes to Surrey, BC, Canada on July 15-24, 2016.  For more information and to purchase tickets, visit http://www.surrey2016.com.  Find us on Twitter.com/Surrey2016 or Facebook.com/Surrey2016

About The WBSC XV Women's World Championship:
The WBSC XV Women's World Softball Championship is operated by the SURREY 2016 Organizing Committee, which focuses on the advocacy and development of the sport of fastpitch. The event is built on the power of sports, where the athletes and teams of every softball-playing nation in the world have an opportunity to compete. For two decades, through the Canadian Open Fastpitch Society, they have accomplished this by staging a first class, family oriented elite international fastpitch championship.
Media Contacts:
Hayley Thomas                                              Laura Ballance
Media Relations                                             Media Relations
604.637.6655 (direct)                                     604.637.6646 (direct)
604.329.4747 (mobile)                                   604.771.5176 (mobile)
[email protected]                                     Laura@LBMG.ca